Agricultural Engineering (College of Agriculture)
Agricultural engineers apply their knowledge of agricultural systems, natural resources and engineering to equipment design and assure environmental compatibility of practices used by production agriculture.
The Agricultural Engineering curriculum offers a great variety of course experiences to choose from. Subject areas include computer-aided engineering, fluid power, finite element analysis, natural resource conservation, and engineering properties of biological materials.
Excellent career opportunities exist in product engineering, equipment research and design, facilities design, and engineering management. Practical applications in lab intensive classes (every ABE3-credit hour class has a lab) and significant opportunities to be involved in clubs (1/4-Scale Tractor, PUP, ASABE Robotics) are important assets. Students in this program earn a Bachelor of Science in Agricultural Engineering.
Applying
Agricultural Engineering is a major within the Agricultural and Biological Engineering (ABE) Department. Students in this major will obtain a degree granted in the College of Engineering, and there are multiple entry paths for those who are interested in ABE majors. 
First-time college students may apply to Agricultural Engineering in the College of Agriculture(where they would begin in the pre-ABE program) or they may select First-Year Engineering in the College of Engineering (where they would begin in the First-Year Engineering program). The first-year curriculum is the same for each path. 
Transfer students who have fulfilled the first-year requirements of this engineering program may apply directly to Agricultural Engineering in the College of Agriculture.
Note: The First-Year Engineering Program is the entry point for all beginning engineering students. They must complete the First-Year Engineering requirements before entering the engineering school of their choice. The mission of this student-oriented service program is to advise, teach and retain outstanding students for Purdue's College of Engineering. This core curriculum includes courses in math, chemistry, physics, computer programming, and communication skills, as well as introductory engineering coursework taught in the new Ideas to Innovation (i2i) Learning Laboratory. The First-Year Engineering Program provides students with a firm foundation and initial understanding of engineering and career options to assist them in identifying which of Purdue's engineering disciplines is the right fit. Our professional academic advisors, faculty and student advisors are dedicated to assisting beginning engineers with the first-year experience.
Student Spotlight: Clare McNicholas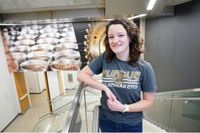 I chose to attend Purdue and pursue a degree in Agricultural Engineering because when I was a sophomore in high school, I attended a weekend camp at Purdue to learn about the different types of engineering programs. The presentation about agricultural engineering focused on how, with this degree, you can address the problems of food and water shortages and focus on sustainability. I was hooked from that moment.
Several things helped me to find my place at Purdue. Boiler Gold Rush, the freshman orientation before the first week of school, helped me to learn my way around campus, all that life at Purdue has to offer, and I was able to establish a great group of friends. Another organization that was a big help was St. Thomas Aquinas Catholic Church, which has a lot of different groups and activities going on all the time. 
I also had two internships while in college, and both were beneficial in giving me experience in different areas. I would encourage students to step out of their comfort zone with internships to widen their perspectives. 
I have had a great experience during my time at Purdue and encourage you to reach out to our department to answer any questions you might have.
Plan of Study
Agricultural Engineering (College of Agriculture) Webpage
Transfer to Agricultural Engineering (College of Agriculture)
Purdue admits to individual majors. Transfer students must meet Purdue's overall transfer criteria, as well as any major-specific requirements. Before you apply, check the closed programs page to confirm this major is open to transfer students. If it is, refer to the information below for major-specific transfer criteria.
Minimum GPA: 2.5.
Additional Requirements: Apply through the College of Agriculture, and see the Engineering Transfer Criteria page for more detailed course requirements.
---
Contact Information
Agricultural and Biological Engineering
(765) 494-1172
joinabe@ecn.purdue.edu
College of Agriculture
---
Careers in Agricultural Engineering (College of Agriculture)
Design and test engineers for equipment manufacturers
Product engineering
Facilities design
Safety engineering
Forest engineering
Engineering management
Consulting firms, government agencies
---