Agricultural Systems Management
Agricultural Systems Management (ASM) prepares you to organize and manage environmentally sound, technology-based businesses with an emphasis on planning and directing an industry or business project for results. ASM is based on an understanding of how equipment and buildings are used with plants and animals and their products. These processes require an understanding of the biological sciences to produce and maintain a top product quality.
The program provides in-depth technical knowledge for selecting and applying advanced technologies in the food, feed, fiber, and fuel systems. Graduates are prepared to solve a wide variety of business and technical problems in a job field that continues to grow. Agricultural Systems Management students take courses in communications, business management and agricultural sciences, in addition to specialty courses based in the nationally-ranked Agricultural and Biological Engineering Department.
You can also choose to specialize in one of the following concentrations:
Data & Information Systems
Leadership & Management
Agro-Security
Student Spotlight: Noah Spear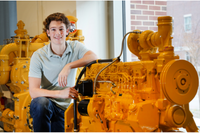 I'm from Rossville, Indiana, so Purdue is in my backyard. There was a lot of school pride in my family since my parents are Purdue alumni. I had scholarships and opportunities elsewhere, but one of the biggest driving decision factors for me to come to Purdue was how the Agricultural and Biological Engineering department recruiting staff gave me a clear image of what future careers could look like with an agricultural systems management degree.
On top of that, Purdue's College of Agriculture and Agricultural and Biological Engineering are so highly ranked that, whether Purdue is in your backyard, or you live in a different country, Purdue is the best choice.
I found my way at Purdue by joining a fraternity, playing intramural sports and joining clubs. My fraternity, Alpha Gamma Rho, as well as ABE Ambassadors and Christian Student Center, have provided me opportunities to grow professionally, grow my social sphere, and have given me the opportunity to serve Purdue and local communities.
The most profound internship experience I had in my time at Purdue was with Bayer Crop Science. I was able to work as a Seed Process Engineer intern. This 6-month experience taught me about the industry and the way people communicate and work together in these environments. I gained an enormous amount of technical and practical knowledge. Our college has an incredible ability to facilitate opportunities to work with real-world industry leaders.
Purdue provides countless opportunities on campus, in internships and even studying abroad; you can have all that while still having the experience of faculty and staff knowing your name and providing support and encouragement for whatever your ambitions might be.
Plan of Study
Agricultural Systems Management Webpage
Transfer to Agricultural Systems Management
Purdue admits to individual majors. Transfer students must meet Purdue's overall transfer criteria, as well as any major-specific requirements. Before you apply, check the closed programs page to confirm this major is open to transfer students. If it is, refer to the information below for major-specific transfer criteria.
Minimum GPA: 2.5
---
Contact Information
Agricultural and Biological Engineering
(765) 494-1172
joinabe@ecn.purdue.edu
College of Agriculture
---
Careers in Agricultural Systems Management
Product Education - Use and Value
Technical Assistance and Troubleshooting
Technical Product Development, Testing, Application and Sales
Farm & Agribusiness Management
Coordinating, Directing and Supervising Manufacturing and Processing Operations
Buildings and Equipment Layout, Use (Materials Handling, Flow, Processing)
---