Agronomy is at the core of all agricultural sciences.
Purdue's Agronomy Department provides global leadership in plant genetics, plant physiology, meteorology, and soil and water sciences, enhancing the quality of life through discovery, education and engagement.
Agronomy includes multiple areas of concentration:
Agronomic Business and Marketing prepares students to meet the high demand for professionals in technical sales and marketing or professional field agronomy with strength in business.
Crop and Soil Management is for students interested in applying basic agronomic information to practical situations or problems.
International Agronomy is designed for students interested in the agronomic aspects of international agricultural development.
Student Testimonial: Claire King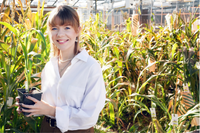 As soon as I stepped foot onto the Purdue Agriculture campus, I felt right at home. Maybe it was the incredible undergraduate research opportunities or the friendly environment, but what I knew is that Purdue held the potential for me to grow professionally and personally. Through pursuing a Plant Breeding, Genetics, and Biotechnology degree from Purdue Agriculture, I understood that I could make a difference in people's lives internationally. The importance of agriculture to the world drove me forward to obtain a degree in this field.
Still, when I began my first year as a student, I was a little intimidated. But I took my experience into my own hands and joined clubs that made Purdue feel like home. These organizations included Phi Mu Sorority, Purdue Student Farm Organization and Purdue Student Government. Within the first month, I knew I could not be anywhere else.
My first experiences on campus were also shaped by the faculty, staff and students that I met. I studied with my friends, my advisor always worked hard to help me on my path to graduation, and I had a professor who accepted me into my first lab position. All of these relationships have all been so important in my journey.
I completed an internship with Bayer Crop Science in Iowa, working with hybrid and short corn. There is nothing like standing in hybrid corn that is twice as tall as you to feel deeply emerged in agriculture! Additionally, I worked in a Soil Microbiology and Sorghum Biotechnology lab here. From running my own experiments to seeing how agriculture brings the world together, my time at Purdue has made me so excited for my future in agriculture!
I know that picking the university where you will grow, learn and become an adult feels overwhelming
sometimes. I felt as if I was deciding the rest of my life at 18 years old. However, what made me confident about my decision to attend Purdue was the support I knew I would receive.
After one tour of the College of Agriculture at Purdue, I knew this was the right place for me!
Plan of Study
Agronomy Webpage
Transfer to Agronomy
Purdue admits to individual majors. Transfer students must meet Purdue's overall transfer criteria, as well as any major-specific requirements. Before you apply, check the closed programs page to confirm this major is open to transfer students. If it is, refer to the information below for major-specific transfer criteria.
Minimum GPA: 2.5
---
Contact Information
Agronomy
(765) 494-4773
agronomy@purdue.edu
College of Agriculture
---
Careers in Agronomy
Agricultural research scientist
Agronomist/technical sales/product manager
Certified crop advisor
Certified soil scientist
Digital agriculture
Environmental scientist
Extension Educator
Farm management
Field agronomist/Precision cropping systems
Grain and Commodity marketing
Global food security research specialist
Natural resources project manager/conservation specialist (USDA)
Peace Corp/Social actions agencies
Plant scientist/breeder/geneticist
Seed production and product specialist
Soil, land resource, and wetlands scientist
---