Animal Sciences (multiple concentrations)
Animal sciences offers a sound education in science and prepares students for scientific careers in animal agriculture. Biotechnological industries seek animal science graduates, frequently offering unprecedented opportunities. In addition, students are prepared for graduate study in specialized fields of animal genetics, nutrition, physiology, food science, or management.
Students interested in continuing to a professional school, such as dentistry, medicine, or veterinary medicine, find this program to provide excellent preparation.
Concentrations include:
Animal Agribusiness
Behavior/Wellbeing
Biosciences
Pre-veterinary Medicine
Production
Products
---
Scott Radcliffe, Associate Professor of Animal Sciences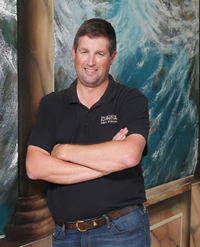 Radcliffe's passion for teaching comes from his students. "Although my principal appointment at Purdue is research, I hope the impact I leave on this place will be in teaching and encouraging students to do great things," he said. With that goal in mind, Radcliffe guides and challenges students to take the information he teaches into their own hands and apply it to the bigger picture of the agriculture industry in their own way.
To do this, he assigns group projects with a broad range of possible topics. For instance, one semester he allowed a student group to base its class project on the nutrition of beluga whales. "I don't need to teach the same thing every year," Radcliffe said. "It's all about what the hot topic is at the time."
Radcliffe incorporates some alternative modes of teaching into the group projects he assigns in the class. Students pick a topic and develop a video that teaches their classmates about it. Groups have total creative freedom on the assignment, and they also must do all the interviewing, filming and editing of the videos on their own. 
"Ultimately students have to figure out how to learn on their own, because it challenges them to bring useful information back to the classroom to teach each other," he said. In this way, Radcliffe hopes that rather than learning via lecture, his students will learn the same information while researching for their group projects, and then again as they teach it to their classmates during final presentations. "I hope that somehow my students are inspired —at least one student in each class," he said. 
Excerpts from a Purdue Agriculture Teaching Profile By Tana Simmons and Emma Hopkins.
Plan of Study
Animal Sciences (multiple concentrations) Webpage
Transfer to Animal Sciences (multiple concentrations)
Purdue admits to individual majors. Transfer students must meet Purdue's overall transfer criteria, as well as any major-specific requirements. Before you apply, check the closed programs page to confirm this major is open to transfer students. If it is, refer to the information below for major-specific transfer criteria.
Minimum GPA: 2.5
---
Contact Information
Animal Science
(765) 494-4823
ansc4you@purdue.edu
College of Agriculture
---
Careers in Animal Sciences (multiple concentrations)
Students prepare for scientific phases of animal agriculture leading to careers in animal genetics, nutrition, growth and development, reproduction, and herd management. Graduates pursue careers such as animal nutrition consultant, breeding manager, and animal environmental specialist.
---