Imagine a world where all of earth's raw agricultural products are utilized for nourishing every human being. Imagine turning those raw agricultural products into safe, shelf-stable, great tasting foods and beverages that every human being can afford and access. By earning a bachelor's degree in Food Science from Purdue University you can help to create this world!
The field of Food Science applies science, such as microbiology and biochemistry, to discover ways to improve the taste, nutrition, and value of the food supply. A food scientist possesses the skills necessary to convert raw food products into safe, sustainable foods and beverages. Graduates apply scientific knowledge and economic principles to food production, storage, distribution, product development, quality control, inspection and sales or pursue graduate studies in food processing, microbiology or chemistry.
Student Testimonial: Zach Hoag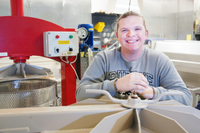 I had always planned to go to culinary school until I found food science. Food science combines my passion for food and my love of STEM into a field where I can see myself having a career. I chose Purdue because it has one of the country's best agriculture colleges and food science programs; it helped me financially as an out-of-state student, and it felt like home when I visited. 

I found my way as a student at Purdue through the Food Science department as well as Boiler Gold Rush. I joined an Institute of Food Technologist's Student Association (IFTSA) Mars Product Development Team, where I was able to develop applied product development skills, as well as connect with my peers. I have also participated in the Food Science Club.   
I was a team leader and supervisor within Boiler Gold Rush - our great freshman orientation - and I really enjoyed my experience. It helped me form a community on campus as well as help new students transition to campus life.   

Last summer, I was a Quality Assurance Intern with Conagra Brands at their Birds Eye facility in Darien, Wisconsin. This experience helped me conceptualize what my future might look like. It was fantastic to apply my knowledge in a production environment. I have an upcoming internship as a Research and Development Intern for Pepsico in Plano, Texas, and am excited to learn more through that experience.

I believe you will always gain more from the school where you feel you can thrive. 
Plan of Study
Food Science Webpage
Transfer to Food Science
Purdue admits to individual majors. Transfer students must meet Purdue's overall transfer criteria, as well as any major-specific requirements. Before you apply, check the closed programs page to confirm this major is open to transfer students. If it is, refer to the information below for major-specific transfer criteria.
Minimum GPA: 2.5
---
Contact Information
Food Science
(765) 494-2766
foodsci@purdue.edu
College of Agriculture
---
Careers in Food Science
Quality assurance
Product development
Food safety
Package design
Sensory science
Food processing/production
Food regulation & advocacy
Food marketing & sales
Graduate or professional school
---