Environmental & Natural Resources Engineering (College of Agriculture)
In Environmental and Natural Resources Engineering, students learn about ecosystem processes (the water cycle, nutrient transformation processes, and biological systems), how human activities such as agriculture affect these complex systems, and how to design sustainable solutions.
Basic engineering principles, as well as some of the newest technological approaches, are applied to solve challenges related to soil and plant environments, surface and ground water quality, air quality, animal environments, and food safety. Graduates work in exciting careers in federal, state, and local government, engineering consulting firms, and industry, or pursue graduate study opportunities.
Take a look at some senior projects.
Applying
Environmental and Natural Resources Engineering is a major within the Agricultural and Biological Engineering (ABE) Department. ABE grants degrees in both the College of Agriculture and the College of Engineering. Environmental and Natural Resources Engineering is a degree granted in the College of Engineering, and there are multiple entry paths for students who are interested in ABE majors.
First-time college students may apply to Environmental and natural Resources Engineering in the College of Agriculture (where they would begin in the pre-ABE program) or they may select First-Year Engineering in the College of Engineering (where they would begin in the First-Year Engineering program). The first-year curriculum is the same for each path.
Transfer students who have fulfilled the first-year requirements of this engineering program may apply directly to Environmental and Natural Resources Engineering in the College of Agriculture.   
Note: The First-Year Engineering Program is the entry point for all beginning engineering students. They must complete the First-Year Engineering requirements before entering the engineering school of their choice. The mission of this student-oriented service program is to advise, teach and retain outstanding students for Purdue's College of Engineering. This core curriculum includes courses in math, chemistry, physics, computer programming, and communication skills, as well as introductory engineering coursework taught in the new Ideas to Innovation (i2i) Learning Laboratory. The First-Year Engineering Program provides students with a firm foundation and initial understanding of engineering and career options to assist them in identifying which of Purdue's engineering disciplines is the right fit. Our professional academic advisors, faculty and student advisors are dedicated to assisting beginning engineers with the first-year experience.
Experience Purdue Agriculture: Anthony Ruberti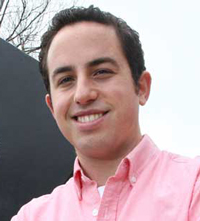 For some of my classmates, coming to Purdue was a rite of passage. It was their destiny to be here, and Purdue had been on their radar since birth. I didn't come across Purdue until my senior year of high school, after I had already been accepted to schools on the East Coast. I sat next to a friend who was applying to Purdue for aerospace engineering when we were in a computer lab. I said, "Let me see what Purdue has; I don't know anything about the school." What I found was that Purdue has the No. 1-ranked agricultural and biological engineering program in the nation and the big-school experience that I wanted.
A Place Where Faculty Know Your Name
When I first visited campus spring of my senior year, I was able to meet with an ABE professor. That experience helped me decide in favor of Purdue—that a Big 10 university professor doing world-renowned research had time to talk to me, Anthony from New Jersey. As an out-of-state student, value was particularly important to my family. We saw the long-term benefit that Purdue provided through relationships with industry. My parents saw that it wouldn't end with a degree. There are so many advantages. Purdue helps set you up for life.
Get Out of Your Comfort Zone
As an agronomy intern with Cargill after my sophomore year, I was out in vast corn and soybean fields. The first week I was scouting fields, riding an ATV, and driving a pickup. I didn't know what I was doing, and sometimes I felt overwhelmed. I told myself, "Get committed and do the best you can." The internship wasn't in my career field, but getting out of my comfort zone made it more interesting. And, boy, did it give me a perspective of production agriculture that I never had before. Now, I can have conversations with farmers and touch base with more people, including students. My next internship is completely opposite—working in Washington, D.C., at the Environmental Protection Agency. This gives me a perspective of agriculture on yet another level. Learning about the policies that drive environmental protection helps me understand the link between agriculture and the policies that govern it.
Service Learning
I'm starting to connect with what it takes to feed the world. I went to Haiti over winter break as part of a service-learning course. I wanted to have that international experience. It was humbling to see conditions in one of the most impoverished countries in the world. If you want to pick an environment problem or agricultural roadblock, Haiti has it. We learned that it takes all different majors and backgrounds to solve problems. This type of program is the future. We're taking what we learn in the classroom and applying it. There's learning on both ends. You gain international experience and help make a difference in people's lives. Agriculture has the largest percentage of Purdue students studying abroad. This speaks volumes about the reach of Purdue's international agriculture programs. We're all over the world.
Plan of Study
Environmental & Natural Resources Engineering (College of Agriculture) Webpage
Transfer to Environmental & Natural Resources Engineering (College of Agriculture)
Purdue admits to individual majors. Transfer students must meet Purdue's overall transfer criteria, as well as any major-specific requirements. Before you apply, check the closed programs page to confirm this major is open to transfer students. If it is, refer to the information below for major-specific transfer criteria.
Minimum GPA: 2.5 
Additional Requirements: See the Engineering Transfer Criteria page for more detailed course requirements.
---
Contact Information
Agricultural and Biological Engineering
(765) 494-1172
joinabe@ecn.purdue.edu
College of Agriculture
---
Careers in Environmental & Natural Resources Engineering (College of Agriculture)
Federal, state, and local government agencies
Environmental engineering consulting firms
Product engineering
Facilities design
Safety engineering
Forest engineering
Engineering management
---