Agricultural education students combine their interest in agriculture with their desire to work with people. Students are prepared to teach agricultural science, business, and related subjects in junior high, high school, or college settings.
They also can pursue careers in agricultural service industries. There is a high demand for agricultural science and business teachers in Indiana and across the United States.
Purdue Agriculture Experience: Ryan Scully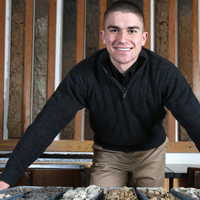 Ryan grew up on a small farm in Southern Indiana where his family raises cattle, swine, and row crops. He aspires to have a farm like this of his own one day. But in his youth, another dream was taking shape, too. "In middle school I started to think about the military," Ryan says. "At first it was about honor and glory and the 'Be all you can be' commercials. Later, it became more about service."
My Purdue Path
Getting College on His Radar 
"I wasn't trying that hard in high school, since I didn't plan to go to college. When learning of my plans, my FFA advisor said I would make an awesome ag educator and that I had the leadership skills to be a military officer. So, I pulled up my grades. I looked at different ways to accomplish both through ROTC (Army Reserve Officer Training Corps) and Ag Education programs. I was familiar with Purdue's program as my mother is a graduate. Purdue is a big-name university where I can combine my passion for the military and agriculture."
Military Now, Farming Later
Whether or not I make the military my career, I will have my agricultural education degree for work in civilian life. After arriving at Purdue, I added a second major in Sustainable Food and Farming Systems. I like its connection to the life sciences and working with animals and crops. My mom works for the Natural Resources Conservation Service, so I have a soft spot for sustainable farms. It's what I want for my own farm in the future. I have a packed schedule, so free time is at a premium. My academic advisors are very good at balancing my schedule with my ROTC requirements and my two academic majors.
Traveling for Education
"Purdue's Maymester summer term is a great way to knock out some classes with the benefit of travel. After freshman year, I went to Jamaica with a group of Ag Education students. The next summer I chose Greece for education classes. I learned so much about the education system there. My favorite experience was playing soccer against an elementary school team. We were absolutely destroyed by those little guys—they showed no mercy. I loved walking downtown, stumbling on a hole-in-the-wall café, and getting life advice from a local. Our last night in Athens, some of us went to a café where we ran into graduate students from another college and an Irish couple on vacation. We all talked for hours. I barely got any sleep before my flight the next morning, but I made new lifelong friends."
An Internship Focused on Conservation
"I interned with the Natural Resources Conservation Service, shadowing the District Conservationist from the Bloomington (Indiana) Service Center. We visited with landowners on their properties to discuss their problems and solutions. One of my favorite experiences was the Mine Reclamation Field Day, which focused on bringing land back into production after a post-mine fill-in. We even visited a row-crop field where this had occurred. I learned so much about soil health and plant physiology. I can point out and name almost every plant or tree I come across now. I often catch myself identifying invasive and beneficial plants out loud."
Plan of Study
Agricultural Education Webpage
Transfer to Agricultural Education
Purdue admits to individual majors. Transfer students must meet Purdue's overall transfer criteria, as well as any major-specific requirements. Before you apply, check the closed programs page to confirm this major is open to transfer students. If it is, refer to the information below for major-specific transfer criteria.
Minimum GPA: 2.5
---
Contact Information
Agricultural Sciences Education and Communication
(765) 494-8433
ASEC@purdue.edu
College of Agriculture
---
Careers in Agricultural Education
Graduates teach agriculture in junior high schools, high schools, and colleges; work as extension agents for the state and federal government; or fill a wide variety of posts in agribusiness and industry.
---