Learn to apply biological, ecological, economic, and social knowledge as you develop and implement sustainable forest management plans. Studies emphasize understanding ecosystems function, natural and human disturbance, and ecosystem resilience. This prepares you for careers with public agencies such as state divisions of forestry, U.S. Forest Service or private industries and consulting firms. This program is accredited by the Society of American Foresters and includes concentrations in Forest Management, Forest Science, Sustainable Biomaterials, and Urban Forestry.
Purdue Agriculture Experience: Christian Houser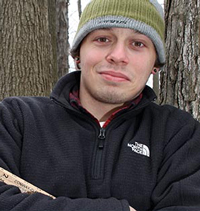 In one of my introductory classes we had professors from the five different forestry and natural resource majors come in and give talks about their programs. After hearing what one of the wildlife professors was doing, I went up to him after class and asked if I could work with him on research. For the remainder of the year I helped out another student with her research. My sophomore year I was able work to start my own research project on a small species of mice that is an indicator of overall prairie health. Doing wildlife research in the field can be frustrating. You get up early to go out to the trapping site. You get dirty and smelly. ...
You go home and get cleaned just in time to start a full day of classes. But instead of going home to take a nap afterward, you go back to the research site to collect more data. It's stressful and it's tiring, but in the end, it's worth the effort. It's one of those experiences that will stick with you for the rest of your life.
Forestry in the Field
Purdue is a great place to study forestry. There are several field properties and nature areas where you have labs or do research. Purdue's Martell Forest is one of my favorite places to go hiking. It's beautiful there. All forestry majors attend a five-week camp in Michigan's Upper Peninsula, learning practical, hands-on skills in forestry. I've also gained experience by working at a nearby state park and timber plantation.
Home Away from Home
The Forestry and Natural Resources Department is your family when you're away from home. I love my department for that. It really does feel like home. The faculty and advisors care about your well-being and will go out of their way to help you. At the end of the school year, my research professor invites all the students who worked in his lab to his house. I love that we can interact with professors on that level and see the more personal side of their lives. You get to know them not just as professors, but also as people.
Plan of Study
Forestry Webpage
Transfer to Forestry
Purdue admits to individual majors. Transfer students must meet Purdue's overall transfer criteria, as well as any major-specific requirements. Before you apply, check the closed programs page to confirm this major is open to transfer students. If it is, refer to the information below for major-specific transfer criteria.
Minimum GPA: 2.5
---
Contact Information
Forestry and Natural Resources
(765) 494-3591
JoinFNR@purdue.edu
College of Agriculture
---
Careers in Forestry
Forester
Arborist
Consultant
Restoration program associate
Property manager
Graduate school
---