Learn to apply biological, ecological, economic and social knowledge to develop and administer forest management plans on both public and private forestland and in urban settings.
Graduates are charged with protecting and enhancing forest ecosystems and the social and economic benefits provided by forests. This program is accredited by the Society of American Foresters and includes concentrations in Forest Management, Forest Science, Sustainable Biomaterials, and Urban Forestry.
Student Testimonial: Carly Hlebasko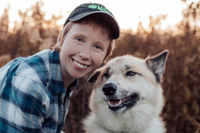 In the fall of 2012, I was planning on going to college for illustration. After several portfolio interviews, I changed my focus to my other passion: science!  I decided that if I could gain a better understanding of the environment around me, I could combine that knowledge with my artistic skills to create visual designs and educate others about the natural areas they live in. 

In the forestry curriculum, there were courses that were required, such as "Fundamentals of Speech," "Human Dimensions" and "Natural Resource Information Management." While these courses seemed far from the idea of "Forestry," each was important and integrated into the field of conservation. Without proper communication, how can one lead a team or project? Without understanding human behavior, how can one engage with partners or communities to work together? Without data management and analysis, how can one define goals and claim success?

I utilize these communication and human dimension skills every time I engage with the public and fellow landowners. I utilize GIS skills while leading my crew members in data collection sessions to better define our objectives and achieve our goals. And I am able to engage with visual learners through the use of my GIS skills and artistic abilities.     

Purdue and the FNR Department equipped me with a wide variety of skills that have proven useful during my career and that I continue to improve upon every day. 
Plan of Study
Forestry Webpage
Transfer to Forestry
Purdue admits to individual majors. Transfer students must meet Purdue's overall transfer criteria, as well as any major-specific requirements. Before you apply, check the closed programs page to confirm this major is open to transfer students. If it is, refer to the information below for major-specific transfer criteria.
Minimum GPA: 2.5
---
Contact Information
Forestry and Natural Resources
(765) 494-3591
JoinFNR@purdue.edu
College of Agriculture
---
Careers in Forestry
Arborist
District forester
Procurement forester
Geographic information systems (GIS) specialist
Graduate school
---