Prepare for a career in research, management, education, or interdisciplinary investigations of environmental problems in both freshwater and marine ecosystems.
You can choose a concentration in Fisheries or Marine and Freshwater Biology. You will prepare for work in state/federal agencies, non-profit organizations, private companies, or graduate studies. This degree meets the requirements for the American Fisheries Society's professional certification.
Student Testimonial: Audrée Nealy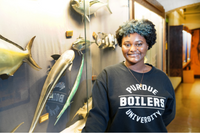 I chose Purdue because it offered my major, Aquatic Sciences-Marine & Freshwater Biology, as well as other terrific opportunities. My high school swim coach also encouraged me by telling me about the experiences of her children who attended Purdue. My coach definitely gave me my final push to enroll at Purdue!  

When I arrived on campus, I joined the Purdue Black Student Union and American Fisheries Society. Through those two organizations, I was able to connect with students in my major and people who come from similar backgrounds. The Purdue Black Student Union made a big difference for me because, during my first semester, I was the only Black person in many of my classes. Increasing diversity is a major priority for Purdue and something that I actively support.  
Some of the terrific opportunities I have been able to experience occurred during the past year. Last summer, I went to Iron River, Michigan for five weeks to participate in the FNR Summer Practicum and get fieldwork experience in freshwater ecosystems. A few weeks later, I went to Seahorse Key, Florida, and stayed at a biological field station for 10 days as part of the Marine Biology Practicum, where I gained experience in marine ecosystems.  
I am currently working in Dr. Marisol Sepulveda's Aquatic Ecotoxicology lab, assisting with research projects and performing animal husbandry duties with sheepshead minnows, African clawed frogs and zebrafish. Working in the lab, I have gotten to know graduate students and received a lot of advice about my research interests and plans after Purdue.  

I am glad my coach encouraged me to come to Purdue because it has been a great place for me to pursue my interests and to grow personally.
Plan of Study
Aquatic Sciences Webpage
Transfer to Aquatic Sciences
Purdue admits to individual majors. Transfer students must meet Purdue's overall transfer criteria, as well as any major-specific requirements. Before you apply, check the closed programs page to confirm this major is open to transfer students. If it is, refer to the information below for major-specific transfer criteria.
Minimum GPA: 2.5
---
Contact Information
Forestry and Natural Resources
(765) 494-3591
JoinFNR@purdue.edu
College of Agriculture
---
Careers in Aquatic Sciences
Aquaculturist
Fish ecologist
Marine Biologist
Water quality specialist
Graduate or professional school
---