Prepare for a career in fisheries research and management, lake and stream management, aquaculture, and interdisciplinary studies of environmental problems. Studies emphasize understanding ecosystems function, natural and human disturbance, and ecosystem resilience.
You can choose a concentration in Marine and Freshwater Biology or in Fisheries. You are preparing for work in public organizations (state/federal fish and wildlife), not-for-profit organizations (Nature Conservancy), private consulting firms, or for graduate studies (MS, PhD, DVM). This degree meets the educational requirements for the American Fisheries Society's Professional Certification.
Purdue Agriculture Experience: Alex Verdeja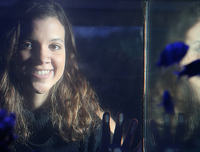 Because I knew I wanted to be Pre-Vet, I had to leave Puerto Rico for college. If I hadn't, it would have been such culture shock when I went to vet school. After scouting out programs and financials, I narrowed it down to three schools: Purdue, North Carolina State, and Boston. The college visit was the deciding factor; people were very welcoming here. I took the tour, met students, and sat in on classes. Other schools were polite, but not engaging. I wasn't motivated to join their families. Purdue felt like home.
Choosing a Major
After the first year in Pre-Vet, I had to pick a major. I talked to advisors and professors and chose to double-major in Wildlife and in Fisheries and Aquatic Sciences. I really like the research and all the science behind it. Wildlife here is different than I'm used to in Puerto Rico. The first squirrel I ever saw was here. We have bird diversity, but not many mammals in Puerto Rico. I'm amazed at the big animals.
It's Different
Coming here from Puerto Rico, there were many things to get used to. People here are more impersonal. At home, you greet someone with a hug and kiss; here you shake hands. At home I mostly spoke Spanish, but here it's English. There's different food, which takes a long time to get used to.
Finding and Creating Community
I joined a learning community at Purdue to get to know people. After class we went to the dining court—and professors often came, too. A very interesting Forestry and Natural Resources professor heard that I wanted to volunteer in lab to get experience. He connected me with one of his grad students, and now I'm studying catfish in one of the best labs at Purdue. I'm also in a sorority where we all love each other and push each other to do well. That helped my first year. I'm closer to students in my major because of classes we have together, but also have close friends in different majors from the sorority. Now also I am a Boiler Mentor to encourage first-year minority students so they can achieve more. They teach me, too. Mentoring is my favorite experience.
Experience Outside the Classroom
As a Purdue student I have studied abroad in the School for Field Studies in Costa Rica, researching how hummingbirds are affected by nectar in flowers and feeders. Over spring break, I went on a multifaceted service trip to nonprofits in developing nations. And I'm planning semester-long study abroad in Australia. Meanwhile, this summer I hope to get an internship in marine conservation where I can work with children and improve my public speaking skills.
Overall, I try to keep my college experience as open as possible. I'm definitely thinking about graduate school instead of vet school now. My advice? "Be open-minded. Apply for internships… adapt and adopt."
Plan of Study
Aquatic Sciences Webpage
Transfer to Aquatic Sciences
Purdue admits to individual majors. Transfer students must meet Purdue's overall transfer criteria, as well as any major-specific requirements. Before you apply, check the closed programs page to confirm this major is open to transfer students. If it is, refer to the information below for major-specific transfer criteria.
Minimum GPA: 2.5
---
Contact Information
Forestry and Natural Resources
(765) 494-3591
JoinFNR@purdue.edu
College of Agriculture
---
Careers in Aquatic Sciences
Aquiculturist
Fisheries biologist
Stream management
Water quality specialist
Graduate or professional school
---