Biological Engineering (College of Agriculture)
The world has tremendous need for solutions to problems related to the environment, energy, health, food and sustainability. Biological systems are related to or at the heart of all of these issues.
A biological engineer learns to design and analyze biological systems to develop innovative and practical solutions. Our graduates are well prepared for careers in the food industry, pharmaceutical industry, biotechnology, and bioprocessing as well as entrance into graduate or medical school. Students may select a major and plan of study within biological engineering that is tailored to their specific career goals. Students in this program earn a Bachelor of Science in Biological Engineering, (BSBE).
Some areas of focus include: 
Bio Environmental Engineering: Bioprocessing manufacturers, including food and pharmaceutical industries, are looking for innovative environmental controls, waste processing and water treatment to meet corporate sustainability goals and to comply with increasingly strict governmental regulations. In addition, there exists a high potential for identifying value added products from these water streams. 
Cellular and Biomolecular Engineering: This emerging field is expected to rapidly advance and open opportunities in biomanufacturing, drug design, human therapeutics, tissue and organ regeneration, bioenergy and biofuel production, bioremediation, and biodefense.
Food & Biological Process Engineering: This is an interdisciplinary field that applies basic sciences, mathematics, and engineering to convert agricultural commodities into edible foods and biological materials through various processing steps. Advances in genetic engineering lead to new types of crops and new processing methods to create value added products.
Pharmaceutical Process Engineering: This program of study is targeted to provide graduates with unique skills and job opportunities to take on roles within all phases of the pharmaceutical industry including research, product and process development, processing engineering, manufacturing, and marketing.
Applying
Biological Engineering is a major within the Agricultural and Biological Engineering (ABE) Department. Biological Engineering is a degree granted in the College of Engineering, and there are multiple entry paths for students who are interested in ABE majors. 
First-time college students may apply to Biological Engineering in the College of Agriculture (where they would begin in the pre-ABE program) or they may select First-Year Engineering in the College of Engineering (where they would begin in the First-Year Engineering program). The first-year curriculum is the same for each path.
Transfer students who have fulfilled the first-year requirements of this engineering program may apply directly to Biological Engineering in the College of Agriculture. 
Note: The First-Year Engineering Program is the entry point for all beginning engineering students. They must complete the First-Year Engineering requirements before entering the engineering school of their choice. The mission of this student-oriented service program is to advise, teach and retain outstanding students for Purdue's College of Engineering. This core curriculum includes courses in math, chemistry, physics, computer programming, and communication skills, as well as introductory engineering coursework taught in the new Ideas to Innovation (i2i) Learning Laboratory. The First-Year Engineering Program provides students with a firm foundation and initial understanding of engineering and career options to assist them in identifying which of Purdue's engineering disciplines is the right fit. Our professional academic advisors, faculty and student advisors are dedicated to assisting beginning engineers with the first-year experience.
Student Spotlight: Ian González Montañez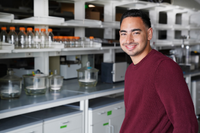 Growing up in San Juan, Puerto Rico, I was interested in pursuing a degree in science or engineering and was considering a variety of universities. Then the fall of my senior year, my planning was interrupted when two hurricanes, Maria and Irma, devastated my country. We had no power or internet signal—even at my high school.
As you can imagine, leaving my family and country was weighing heavily on me during this time and money was a big factor. Fortunately, many universities provided Puerto Ricans with a fee waiver to apply—including Purdue University. That's actually how I learned about Purdue and decided to apply the day before applications closed. I'm so grateful that I did!
I was nervous about leaving my family and wondered what Purdue would be like. But my first-year engineering academic advisor and professors were incredible and created an environment where I could find my place at Purdue. Multiple organizations I have been involved with, such as College Mentors for Kids, Algebra by Seventh Grade, MEDLIFE and the Academic Success Program, have fortified my love for Purdue, as well as helped me find communities to spend time with outside of class, which at Purdue couldn't be easier to do!
The pandemic has been a big part of my experience here. That said, it did not impede me from having meaningful experiences. I have to mention my time in Dr. Martin Okos' lab where I had my first research experience. It was at the peak of COVID, which meant I spent most of my time conducting the research online. Nevertheless, I learned so much in terms of reading, gathering data and coding.
I've had no regrets in my four years here, and I would do it all over again.
Plan of Study
Biological Engineering (College of Agriculture) Webpage
Transfer to Biological Engineering (College of Agriculture)
Purdue admits to individual majors. Transfer students must meet Purdue's overall transfer criteria, as well as any major-specific requirements. Before you apply, check the closed programs page to confirm this major is open to transfer students. If it is, refer to the information below for major-specific transfer criteria.
Minimum GPA: 3.5
Additional Requirements: Apply through the College of Agriculture, and see the Engineering Transfer Criteria page for more detailed course requirements.
---
Contact Information
Agricultural and Biological Engineering
(765) 494-1172
joinabe@ecn.purdue.edu
College of Agriculture
---
Careers in Biological Engineering (College of Agriculture)
Research and development of new foods and biological and pharmaceutical products
Development and operation of manufacturing, packaging, and distributing systems for drug, food, and bio-based products
Design and installation of food/biological/pharmaceutical production processes
Design and operation of environmentally responsible systems, energy, and products
Marketing and technical support for manufacturing plant
Business/industry positions in design, analysis, marketing, sales, engineering, and management consulting
---