Biological Engineering (College of Agriculture)
The world has tremendous need for solutions to problems related to the environment, energy, health, food, and sustainability. Biological systems are related to or at the heart of all of these issues. A biological engineer learns to design and analyze biological systems to develop innovative and practical solutions.  
Our B.S. graduates are well prepared for careers in the food industry, pharmaceutical industry, biotechnology, and bioprocessing as well as entrance into graduate or medical school. Students may select a major and plan of study within biological engineering that is tailored to their specific career goals.  Some areas of focus include:
BioEnvironmental engineering: This interdisciplinary concentration provides students with the necessary biology, microbiology, and process engineering skills to tackle challenging environmental design issues, with specific topics in environmental and bioprocessing engineering to focus the skills of its graduates.
Bioprocess engineering and bioenergy engineering: This is rapidly becoming a critical forefront research area as advances in genetic engineering lead to new types of crops and new processing methods to create value added products.
Cellular and biomolecular engineering: This emerging field is expected to rapidly advance and open opportunities in biomanufacturing, drug design, human therapeutics, tissue and organ regeneration, bioenergy and biofuel production, bioremediation, and biodefense.
Food process engineering: This is an interdisciplinary field that applies the basic sciences, mathematics, and engineering to convert agricultural commodities into edible foods and biological materials through various processing steps.
Pharmaceutical process engineering:  This program of study is targeted to provide graduates with unique skills and job opportunities to take on roles within all phases of the pharmaceutical industry including research, product and process development, processing engineering, manufacturing, and marketing.
Watch a video and take a look at some senior projects. 
Applying
Biological Engineering is a major within the Agricultural and Biological Engineering (ABE) Department. ABE grants degrees in both the College of Agriculture and the College of Engineering. Biological Engineering is a degree granted in the College of Engineering, and there are multiple entry paths for students who are interested in ABE majors. 
First-time college students may apply to Biological Engineering in the College of Agriculture (where they would begin in the pre-ABE program) or they may select First-Year Engineering in the College of Engineering (where they would begin in the First-Year Engineering program). The first-year curriculum is the same for each path.
Transfer students who have fulfilled the first-year requirements of this engineering program may apply directly to Biological Engineering in the College of Agriculture. 
Note: The First-Year Engineering Program is the entry point for all beginning engineering students. They must complete the First-Year Engineering requirements before entering the engineering school of their choice. The mission of this student-oriented service program is to advise, teach and retain outstanding students for Purdue's College of Engineering. This core curriculum includes courses in math, chemistry, physics, computer programming, and communication skills, as well as introductory engineering coursework taught in the new Ideas to Innovation (i2i) Learning Laboratory. The First-Year Engineering Program provides students with a firm foundation and initial understanding of engineering and career options to assist them in identifying which of Purdue's engineering disciplines is the right fit. Our professional academic advisors, faculty and student advisors are dedicated to assisting beginning engineers with the first-year experience.
Purdue Agriculture Profiles in Teaching: Abigail Engelberth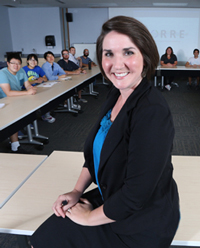 Engelberth teaches classes in both ABE and Environmental and Ecological Engineering (EEE) in the College of Engineering. Her teaching and research focus on renewable resources and making use of waste products from biorefineries, which process vegetation to procure ingredients for various products. 

For example, some of her work looks at waste products produced when corn is made into ethanol, and how these products might be used to make adhesives, plastics or fuel additives. Part of her research focuses on separation; she enjoys learning how to recover the product of interest in an economic fashion. Given the complex nature of lecture topics in her classes, Engelberth adheres to a teaching philosophy centered on comprehension and context. 
"I know I understand concepts better if they are put into a relatable context," Engelberth said. "I really strive to give students 'real world' examples of problems similar to the assignments and projects." 

Part of Engelberth's philosophy is to emphasize to students the importance of putting in the hours and work needed to get the full benefit from their time at Purdue. When she mentors students, she cautions them not to spread themselves too thin in extracurricular activities. She also shares this philosophy when leading professional development seminars for graduate students. 

"As an instructor, I can see how much more they can get out of a course if they just dig a little deeper and put in the needed effort," she said. 
---
"I enjoy that 'aha moment' when I am teaching," she said. "It's great when you are working with a student on something and they just aren't understanding it, so you have to figure out a different way to explain things. Often you can see that moment in their eyes when they just get it. I think that is really great." 

Engelberth also has a passion for problem-solving. "I work with human problems, student problems and science problems, which all offer differences and alternatives," she said. Her passions come from realizing all the possible impacts. 

Most important to Engelberth is that her students come away from her courses confident and ready to improve the world around them. 

"I love working with the students who have the energy and ideas," she said. "Crazy ideas challenge everyone to think about situations differently and how we can improve them." 
Excerpts from Purdue Agriculture Teaching Profile By Emma Hopkins and Katie Barnett.
Plan of Study
Biological Engineering (College of Agriculture) Webpage
Transfer to Biological Engineering (College of Agriculture)
Purdue admits to individual majors. Transfer students must meet Purdue's overall transfer criteria, as well as any major-specific requirements. Before you apply, check the closed programs page to confirm this major is open to transfer students. If it is, refer to the information below for major-specific transfer criteria.
Minimum GPA: 3.5
Additional Requirements: Apply through the College of Agriculture, and see the Engineering Transfer Criteria page for more detailed course requirements.
---
Contact Information
Agricultural and Biological Engineering
(765) 494-1172
joinabe@ecn.purdue.edu
College of Agriculture
---
Careers in Biological Engineering (College of Agriculture)
Research and development of new foods and biological and pharmaceutical products
Development and operation of manufacturing, packaging, and distributing systems for drug, food, and bio-based products
Design and installation of food/biological/pharmaceutical production processes
Design and operation of environmentally responsible systems, energy, and products
Marketing and technical support for manufacturing plant
Business/industry positions in design, analysis, marketing, sales, engineering, and management consulting
---