Industrial engineers design, analyze, and manage complex human-integrated systems such as manufacturing systems, supply chain networks, and service systems. These systems typically consist of a combination of people, information, material, and equipment. In such systems industrial engineers determine how to optimize the system for maximum efficiency, effectiveness, throughput, safety, or some other objective of interest to the stakeholders of the system.
To achieve these objectives, an industrial engineer draws upon knowledge of mathematics, the physical and engineering sciences, and the management and behavioral sciences to function as a problem-solver, innovator, designer, coordinator, and system integrator. Industrial engineers are employed in and apply their skills in an extremely wide range of organizations, including manufacturing industries, service industries, and governmental agencies.
Note: The First-Year Engineering Program is the entry point for all beginning engineering students. They must complete the First-Year Engineering requirements before entering the engineering school of their choice. The mission of this student-oriented service program is to advise, teach and retain outstanding students for Purdue's College of Engineering. This core curriculum includes courses in math, chemistry, physics, computer programming, and communication skills, as well as introductory engineering coursework taught in the new Ideas to Innovation (i2i) Learning Laboratory. The First-Year Engineering Program provides students with a firm foundation and initial understanding of engineering and career options to assist them in identifying which of Purdue's engineering disciplines is the right fit. Our professional academic advisors, faculty and student advisors are dedicated to assisting beginning engineers with the first-year experience.
The Engineering Experience: Grace Michael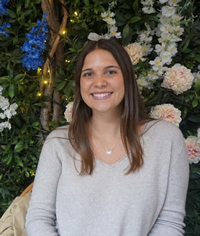 What is your favorite part of engineering?
In engineering I am always challenged to do my best work. I love that I am able to see the direct application of class projects to real life situations. As an IE, it is apparent that the content I learn in class can be applied in the workplace to help make processes and tasks easier.
What is your favorite class you have taken and why?
My favorite class I have taken is IE 332, Computing in Industrial Engineering. While this was a broad and difficult subject, it is a course in which I learned the most valuable material. I have also been able to talk about the course during interviews with regards to teamwork as well as new innovative technology.
What is the best thing about Purdue?
The best thing about Purdue is that we are a very academically focused campus, but we also all support each other in extracurricular activities, at the football and basketball games, and much more. You will always find someone willing to get cheesy bread or a den pop with you!
Tell us about a fun memory about your time at Purdue!
One of my favorite memories here at Purdue was getting together with some of my best friends on a beautiful day and roller blading around campus. It's great to see everyone you know out and about as well as having fun and exploring campus.
What sorts of things are you involved in on campus?
Throughout my years at Purdue, I've been involved with the Boiler Gold Rush program as a Team Leader and then a Team Supervisor. I have been involved in a Cross Cultural Leadership Program and have also served on a committee for PUDM (Purdue Dance Marathon). I am involved with my major by serving on the board of the Institute of Industrial and Systems Engineers, and I have also been involved in Greek life as a member of Kappa Alpha Theta.
What is the best advice you received before coming to Purdue?
Purdue is the place where you will find your best friends, so put yourself out there and be involved in what you are passionate about. Purdue is one of the best educations students can receive so it is important to take full advantage of all resources and be sure to get to know professors and classmates.
What is something you wish you had known when going through the college search process?
Going through the college search process, I wish that I had narrowed down everything I wanted from a school. I realized that Purdue is where I am supposed to be because of the size, education, and involvement that are promoted throughout campus.
What is some advice you would give to incoming engineering students at Purdue?
I would tell an incoming engineering student that sometimes it will be difficult, but stick with it. You will find your passions in engineering, and you will able to explore the numerous different options of everything you can accomplish with this degree.
What is a fun fact about yourself?
I studied abroad last semester in Madrid, Spain where I was able to explore the Spanish culture as well as take engineering classes.
Plan of Study
Industrial Engineering Webpage
Transfer to Industrial Engineering
Purdue admits to individual majors. Transfer students must meet Purdue's overall transfer criteria, as well as any major-specific requirements. Before you apply, check the closed programs page to confirm this major is open to transfer students. If it is, refer to the information below for major-specific transfer criteria.
Minimum GPA: 3.5
Additional Requirements: See the Engineering Transfer Criteria page for more detailed course requirements.
---
Contact Information
Morgan Kuryla
(765) 494-2293
mkuryla@purdue.edu
College of Engineering
---
Careers in Industrial Engineering
IE is used in a wide variety of industries, including business/management, manufacturing and processing, healthcare services, banking, insurance, transportation, construction, utilities, mathematics, entrepreneurship and government agencies. 
Businesses that hire graduates include Boeing, Amazon, Accenture, Bank of America, JP Morgan, Cummins, PepsiCo, Caterpillar, Allison, Procter & Gamble, US Steel, Timken, Zimmer Corp., G.E., General Motors, Chrysler, Ford, Motorola, Intel, IBM, Delco, AT&T, Argonne National Labs, American Airlines, Eli Lilly, Halliburton, Nestle, Disney, U.S. Postal Service, UPS.
---