Biomedical engineers use their understanding of science, medicine, and engineering to create devices, procedures, and materials that monitor and improve human health.
Purdue's Weldon School of Biomedical Engineering (BME) curriculum incorporates engineering fundamentals, design, and analysis, as well as coursework in organic chemistry, biochemistry, biomaterials, bioelectricity, biomechanics, and biological heat and mass transfer. Students gain hands-on engineering experience through intensive lab coursework and by solving real-life biomedical problems.
Note: The First-Year Engineering Program is the entry point for all beginning engineering students. They must complete the First-Year Engineering requirements before entering the engineering school of their choice. The mission of this student-oriented service program is to advise, teach and retain outstanding students for Purdue's College of Engineering. This core curriculum includes courses in math, chemistry, physics, computer programming, and communication skills, as well as introductory engineering coursework taught in the new Ideas to Innovation (i2i) Learning Laboratory. The First-Year Engineering Program provides students with a firm foundation and initial understanding of engineering and career options to assist them in identifying which of Purdue's engineering disciplines is the right fit. Our professional academic advisors, faculty and student advisors are dedicated to assisting beginning engineers with the first-year experience.
The Engineering Experience: Karen Hubbard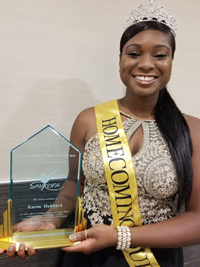 What is your favorite part of engineering?
My favorite part about engineering is the versatility of your degree. You learn how to be a technical/critical thinker and an efficient problem solver. The skills you gather are applicable to almost any field in industry and other occupations.
What is your favorite class you have taken and why?
My favorite class I have taken is a Study Skills Seminar with Miss Brenda Downing. I learned so much about my study habits and how to integrate self-care in my schedule. Every time I left that class, I left with something new to apply to my student-life. My grades improved after taking this class as well! I still use the tactics I learned in that class this semester.
What is the best thing about Purdue?
The best thing about Purdue is the passion instilled in the staff. I've had wonderful academic experiences with Professors because they communicate how much they care about our success, academic experiences and life after graduation. Professors and other teaching staff have impacted me greatly and encouraged me to become more rooted at Purdue through different avenues other than academics.
Tell us about a fun memory about your time at Purdue!
When Professor Craig Miller wore my hoop earrings for a lecture!
What sorts of things are you involved in on campus?
I am a chapter member of the National Society of Black Engineers (NSBE) and on the Regional Board as Region 4 Treasurer. I am on the 2018 ElectHer Planning Committee, and I work in the Minority Engineering Program Office as the Program Administrator. I am also a member of the Biomedical Engineering Society and the Biomedical Engineering Mentee Program.
What is the best advice you received before coming to Purdue?
Never allow anyone to tell you that you can't do something. You are capable of achieving excellence.
What is something you wish you had known when going through the college search process?
I wish I had known which AP/ACP Classes transfer for credit. I would have challenged myself more in high school to take more advanced classes!
What is some advice you would give to incoming engineering students at Purdue?
Always discover what you enjoy early. Finding something you are passionate about will help you realign with your goals when you feel discouraged.
What is a fun fact about yourself?
I won 2018 Black Purdue Homecoming Queen!
Plan of Study
Biomedical Engineering Webpage
Transfer to Biomedical Engineering
Purdue admits to individual majors. Transfer students must meet Purdue's overall transfer criteria, as well as any major-specific requirements. Before you apply, check the closed programs page to confirm this major is open to transfer students. If it is, refer to the information below for major-specific transfer criteria.
Program Availability: Closed to transfers
---
Contact Information
Cindy Holderbaum
(765) 494-2995
cholderb@purdue.edu
College of Engineering
---
Careers in Biomedical Engineering
Biomedical engineers can work in medical device, consumer goods and pharmaceutical companies, universities, hospitals and government agencies; enroll in graduate school; or attend a professional school such as medical, dental, veterinary, business, or law. Specific responsibilities can include:
developing biocompatible materials and devices for implantation, such as artificial organs, cardiac pacemakers and defibrillators, joints, and tissue constructs

designing advanced imaging or diagnostic technologies

using nanotechnology to develop micromachines for repairing cell damage and altering gene function

creating sensors for measuring blood chemistry

developing advanced pharmaceuticals and pharmaceutical delivery systems
---