Civil engineers shape our world by creating, designing, and improving the infrastructure of our communities. They engineer systems that create safe forms of shelter, protect our coastlines and waterways, supply clean energy, provide access to clean water and sanitation, and allow safe and efficient movement of people and goods.
In civil engineering, we encourage our students to have big, bold, noble dreams and empower them to realize those visions. Our program prepares students to tackle future challenges and serve as key stakeholders in improving our society. We offer multiple pathways for students to find their passion. Our large number of open technical elective courses allows students the flexibility to tailor their education towards their desired future career.
Students can choose to study general Civil Engineering or focus in one of the following nine areas:
  Architectural

  Construction

  Environmental

  Geomatics

  Geotechnical

  Hydraulic & Hydrologic

  Materials

  Structural

  Transportation 
Note: The First-Year Engineering Program is the entry point for all beginning engineering students. They must complete the First-Year Engineering requirements before entering the engineering school of their choice. The mission of this student-oriented service program is to advise, teach and retain outstanding students for Purdue's College of Engineering. This core curriculum includes courses in math, chemistry, physics, computer programming, and communication skills, as well as introductory engineering coursework taught in the new Ideas to Innovation (i2i) Learning Laboratory. The First-Year Engineering Program provides students with a firm foundation and initial understanding of engineering and career options to assist them in identifying which of Purdue's engineering disciplines is the right fit. Our professional academic advisors, faculty and student advisors are dedicated to assisting beginning engineers with the first-year experience.
---
The Engineering Experience: Jacqueline Girard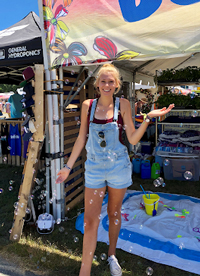 What is your favorite part about Engineering?
I love working in groups to solve complex problems; it's satisfying when the solution is finally reached.
What is the best thing about Purdue?
All the opportunities that are offered here! There are so many clubs to join, sporting events to watch, and classes to take.
Tell us about a fun memory about your time at Purdue!
My first football game is definitely memorable! Standing with thousands of other students makes you feel as though you're apart of something much bigger than yourself, plus it's fun when you start to know the cheers.
What sorts of things are you involved in on campus?
Women in Engineering/ Women in Engineering Recruitment Committee, member of Kappa Alpha Theta, Volunteer for the American Red Cross.
What is the best advice you received before coming to Purdue?
Everything is what you make of it- Purdue Engineering isn't easy, but it will provide you with ample opportunities. Get involved, meet new people- college is supposed to be fun too!
What is something you wish you had known when going through the college search process?
Most people are just as uncertain about the big choices as you are. It's normal to not have everything figured out.
What is some advice you would give to incoming engineering students at Purdue?
Join one club related to your major, one club to meet new people, and find (at least) one way to relieve stress. College is all about balance.
What is a fun fact about yourself?
I am an avid coffee drinker- if you need any Starbucks suggestions I can help you out!
Plan of Study
Civil Engineering Webpage
Transfer to Civil Engineering
Purdue admits to individual majors. Transfer students must meet Purdue's overall transfer criteria, as well as any major-specific requirements. Before you apply, check the closed programs page to confirm this major is open to transfer students. If it is, refer to the information below for major-specific transfer criteria.
Minimum GPA: 3.0
Additional Requirements: See the Engineering Transfer Criteria page for more detailed course requirements.
---
Contact Information
Lyles School of Civil Engineering Undergraduate Office
(765) 494-2166
ceugradrecruit@purdue.edu
College of Engineering
---
Careers in Civil Engineering
Civil engineers build and sustain communities, allowing graduates to work in towns/ cities of any size here in the US or around the world. In addition, with a focus on natural and built environments, your career can be in an office, a lab, out in the field, or a combination of all. Civil engineers find successful careers in many sectors of both private and public organizations here in the US and abroad. Graduates often work on projects that include:
harbors, ports, waterways, and irrigation facilities
water supply systems and pipelines
wind, solar, and hydro-electric power systems
bridges, dams, and levees
contaminant flows, used-water treatment facilities, and air and geoenvironmental remediation
airports, roads, highways, railroads, public transit, and intelligent transportation systems
stadiums, skyscrapers, office buildings, housing, and offshore facilities
...and more!
With a Civil Engineering degree, you can work in design, construction, testing, sales, etc. across a range of areas and industries or go to law or medical school. Civil graduates are sought by all major industries and hold many important and challenging positions in:
Aerospace
Business/Management
Chemicals
Commissioning
Computers
Consulting
Contracting
Controls
Defense
Energy
Entrepreneurship
Foundation Design
Government (Local, State, and Federal)
Land Development
Land Surveying
Mechanical Design
Mining
Petroleum/Oil
Product Design
Public Policy
Research
Sanitation
Teaching
Water Resource
---