Agricultural Engineering (College of Engineering)
Agricultural Engineering prepares professional engineers for rewarding careers focusing on the systems, processes, and machines that are used to generate or utilize energy, food, and water. ***GPS satellite position control was adapted for construction and agricultural vehicles before the automotive with auto guidance accuracy to 1 cm on varied terrain. Biotech is now being developed to monitor plant and seed DNA onboard for national security and high value pharmacological crops.
Agricultural Engineering is a leader in the application of new sensing in vehicles subjected to hostile environments.*** This program provides students with background in mechanical design, hydraulics, instrumentation and control, finite element analysis, electronics and sensors to design, develop, analyze and operate machines and systems for agricultural and biological products and processes, materials handling, construction and mining, forestry, lawn-and ground-care, and food and fiber production and processing.
Take a look at some senior projects.
Applying
Agricultural Engineering is a major within the Agricultural and Biological Engineering (ABE) Department. ABE grants degrees in both the College of Agriculture and the College of Engineering. Agricultural Engineering is a degree granted in the College of Engineering, and there are multiple entry paths for students who are interested in ABE majors. 
First-time college students may apply to Agricultural Engineering in the College of Agriculture (where they would begin in the pre-ABE program) or they may select First-Year Engineering in the College of Engineering (where they would begin in the First-Year Engineering program). The first-year curriculum is the same for each path.
Transfer students who have fulfilled the first-year requirements of this engineering program may apply directly to Agricultural Engineering in the College of Agriculture. 
Note: The First-Year Engineering Program is the entry point for all beginning engineering students. They must complete the First-Year Engineering requirements before entering the engineering school of their choice. The mission of this student-oriented service program is to advise, teach and retain outstanding students for Purdue's College of Engineering. This core curriculum includes courses in math, chemistry, physics, computer programming, and communication skills, as well as introductory engineering coursework taught in the new Ideas to Innovation (i2i) Learning Laboratory. The First-Year Engineering Program provides students with a firm foundation and initial understanding of engineering and career options to assist them in identifying which of Purdue's engineering disciplines is the right fit. Our professional academic advisors, faculty and student advisors are dedicated to assisting beginning engineers with the first-year experience.
Purdue Agriculture Experience: David Wilson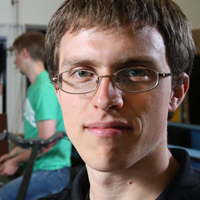 With his dad working as a long-time Purdue staff member, becoming a Boilermaker was a natural choice for David Wilson. The only question—what would he choose as his major? He looked hard at the academic experience, selecting ABE because of the personal attention from professors and the College of Agriculture's service-learning environment.
My Purdue Path
Choosing a Major That Fits
When I graduated from high school, I had a vague idea of what I wanted to do. I was interested in agriculture, and I thought engineering would be a good fit. But I didn't really know where that would lead. One of the things I learned was how engineering skills can be used in food security and international development. That's when I really started getting excited about working internationally. The College of Agriculture works hard to make sure students are aware of international opportunities—to encourage them to study abroad, to get them on global design teams, and to help them to participate in international projects.
Learn by Doing
In ABE, professors are very patient in working with you. When I started, I didn't really know a lot of hands-on things about vehicles. But the professors let us learn, and we developed the skills. We were able to make mistakes. Professors might have a better idea how to do something, but the program isn't just about the results. The goal is for students to learn. Sometimes the best way to do that is by making mistakes.
As an undergraduate, I was involved in the Purdue Utility project, which focuses on building a practical utility vehicle for use in Sub-Saharan Africa. Some of the biggest impacts I've had have been through this project and travelling to Cameroon, Africa. Going through the design process, working on a team, and then travelling together for three to five weeks, you get to know each other very well. And you get to know yourself a little better, especially as you're immersed in a new culture. Purdue is strong in service work, so professors tie that in with your education. It's not all in the classroom. We're getting out in the field, in the shop, and around the world. That's where real education takes place.
Opening Doors
At first, I didn't see myself going to graduate school. It came up as an option my senior year. I want to work internationally, and this was one way that I could get into the type of food security and international development work I want to pursue. I want to help people by using my engineering skills to design things that are useful and sustainable, whether it's a three-wheeled vehicle or a grain thresher.
Getting Involved Makes the Difference
If you come to Purdue, get involved. There's a lot of opportunities and projects that you can work on. Start early. This participation will make a big difference while you're here at Purdue—and after, too.
Plan of Study
Agricultural Engineering (College of Engineering) Webpage
Transfer to Agricultural Engineering (College of Engineering)
Purdue admits to individual majors. Transfer students must meet Purdue's overall transfer criteria, as well as any major-specific requirements. Before you apply, check the closed programs page to confirm this major is open to transfer students. If it is, refer to the information below for major-specific transfer criteria.
Minimum GPA: 2.5.
Additional Requirements: Apply through the College of Agriculture, and see the Engineering Transfer Criteria page for more detailed course requirements.
---
Contact Information
Agricultural and Biological Engineering
(765) 494-1172
joinabe@ecn.purdue.edu
College of Engineering
---
Careers in Agricultural Engineering (College of Engineering)
Design and test engineers for equipment manufacturers
Product engineering
Facilities design
Safety engineering
Forest engineering
Engineering management
Consulting firms, government agencies
---