College Magazine ranks Purdue's English Department first in the United States, and it's easy to see why. Our major offers students individualized attention and access to excellent teachers and experts who shape how people think about literature, linguistics, and writing. A degree in English imparts the skills needed to succeed in any career students choose, and provides the versatility characteristic of a liberal arts education.
While pursuing a BA in English, students may select from three distinct concentrations: Literature, English Education and English Language in a Global Context.
The Literature student is a reader. In this track, students read authors who have shaped the English-speaking globe and practice the skills necessary to negotiate a complex world.
The English Education student is a teacher. English Education combines English with courses in educational psychology, curriculum development and pedagogy.
The English Language in a Global Context student is an internationalist. In this track, students learn about the history and the varieties of English around the world, and the teaching of English as a second language.
In all three, our students have access to unique English department learning communities, internships, scholarships, study abroad opportunities and more, providing them with the foundations for collegiate success, and beyond.
All liberal arts majors prepare students with the skills identified as contributing to managerial success:  communicating and listening well, possessing insights into others, creative/critical thinking, problem solving, and the ability to make connections across complex ideas.
Degree in 3
Motivated, driven students can complete this major in three years.
Degree in 3
allows students to enter the work force or graduate school a year earlier while also providing a cost-effective way to complete an undergraduate degree. Degree in 3 offers a great combination of cost-savings and the opportunity to accelerate your future and achieve your goals.
2019 Murphy Award recipient: Derek Pacheco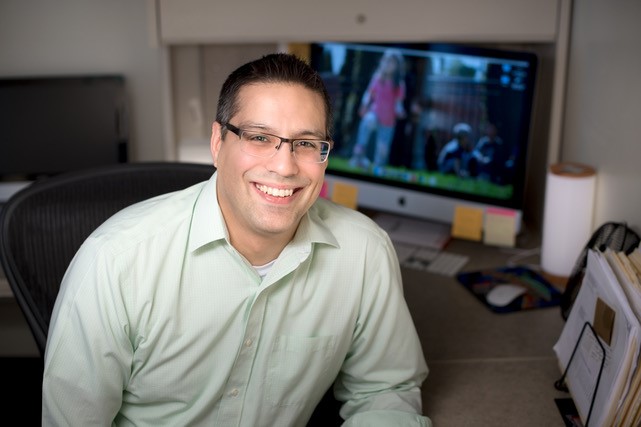 Years at Purdue: 11.
Teaching interests: While my scholarly interest is in 19th-century literature, I am a teaching generalist. I enjoy everything from gateway courses to capstones, including children's literature, introduction to literary theory, American literature to 1865, gender and literature, the American novel and career exploration. I enjoy creating and piloting new classes. One of the main ingredients of effective teaching, and also one of the most valuable lessons we can communicate to students, is always being curious and willing to learn new things. Lifelong learning is essential!
[...]
On teaching theoretical frameworks in a way that is accessible and relatable: By studying literature, we participate in the preservation of human aesthetic achievement for future generations, and we learn about perspectives on the human condition from authors whose life experiences are different from our own.
Yet, I've often encountered students who've told me that they didn't like reading, or who've said that they didn't consider themselves readers. Really, though, they do and are, but they tend to read certain kinds of texts over others. Teaching what's sometimes called "genre fiction" (like fantasy, romance, detective fiction, horror, science fiction, or children's and YA lit) alongside literary classics can help these students rediscover joy and value in reading -- after all, we tend to perform better when they're invested in what we're doing -- as well as help them draw connections among texts, times, and places. Students often find this multigeneric approach less daunting, even when the themes, social problems, or theoretical frameworks we tackle are virtually indistinguishable from those that are prominent in more canonical texts.
Reading is so important. It provides demonstrable benefits: cognitive (increased knowledge, enlarged vocabulary, improved writing, sharpened memory and concentration), health-related (reduced stress, enhanced brain elasticity and functioning, prevention against mental decline), and interpersonal (judgment and decision making, empathy and understanding). Literary studies in particular correlates to improved emotional intelligence, as well as heightened reflection and tolerance for complexity or ambiguity. In a fast-paced digital world bombarding us with distractions, I always emphasize the importance of slowing down and making time for fiction and poetry.
[...]
Goals as a professor: Teaching literature is a chance to show students that the liberal arts matter, that ethical thinking, respect for diversity, appreciation for the complex and the capacity to explain complexities as accessibly as possible are indispensable skills, and that in an age of intensifying technological automation, empathy and humanity are our biggest strengths. Most notably, I take to heart Thorin's dying words in "The Hobbit" (a book I love to teach): "If more of us valued food and cheer and song above hoarded gold, it would be a merrier world."
What Pacheco's students say: This is the one professor I know I will remember for the rest of my life. He is so enthusiastic and the way he is able to connect with students is very special. We have a great time laughing together, but we have an even more fun time learning together -- that is what I will remember. ... Prof. Pacheco is an absolutely incredible professor. Not only is he enthusiastic and passionate about his job, but also he is able to explain complicated material in an easy to understand and entertaining manner. ... Prof. Pacheco's enthusiasm for the class is contagious. ... I am blown away by this class. ... The amount of thorough, thoughtful, and thought-provoking discussion is astounding. ... His class is the kind I look for in a college education: a class I leave feeling enlightened and satisfied and look forward to during my week.
Plan of Study
English Webpage
Transfer to English
Purdue admits to individual majors. Transfer students must meet Purdue's overall transfer criteria, as well as any major-specific requirements. Before you apply, check the closed programs page to confirm this major is open to transfer students. If it is, refer to the information below for major-specific transfer criteria.
Minimum GPA: 2.5
---
Contact Information
Undergraduate Student Recruitment Office
(765) 494-6291
newstudent@purdue.edu
College of Liberal Arts
---
Careers in English
Editor
Attorney
Journalist
Publishing
Grant Writer
Creative Writing
Technical Writing
Advertising
Public Relations
---