The major in African American Studies provides focus on the experience of African Americans and their connections to the African Diaspora in the Caribbean and Latin America. 
Coursework addresses such topics as cultural practices, with reference to literature, history, and film, as well as inequality as it relates to issues of nationality, race, class, and gender. African American Studies provides students with a solid theoretical and research basis to pursue either employment in business and industry or pursue graduate studies. With the African American Studies program, study abroad provides students global engagement that benefits them upon graduation.
All liberal arts majors prepare students with the skills identified as contributing to managerial success:  communicating and listening well, possessing insights into others, creative/critical thinking, problem solving, and the ability to make connections across complex ideas.
CLA Faculty Spotlight: Lisa Young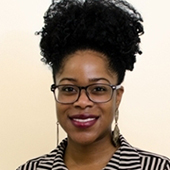 "Lethal Housing: Reading Restrictive Covenants and Urban Black Women's Grassroots Health Activism, 1930-1980" by Lisa Young is selected for The 2017 Ralph Henry Gabriel Dissertation Prize.
Written at the intersection of American studies, black studies, black feminist theory, and literary studies, this interdisciplinary project offers a study of the effects of (and activism responding to) restrictive covenants in the twentieth century United States. Attending in particular to black women writers who mobilize literary form as a means of critical and activist intervention into the legal regime of racially restricted housing, Young's dissertation offers an exemplary model of interdisciplinary inquiry by moving between historical, legal, and literary archives to provide a compellingly argued and meticulously researched account of the ways in which black women writers have mobilized literature to shape what the author describes as "urban ecological literacy."
With its focus on the gendered effects of (and gendered responses to) restrictive covenants, Young's research allows us to grasp the ways in which black women writers staged effective interventions against the forms of bio-political violence that have historically, and continue, to affect black life in the United States. In particular, the dissertation uses ecofeminist theory and urban ecology theory to generate an analysis of how Black women contributed to the 'sustainability' of lives, neighborhoods, communities.
She also traces roots of a tradition of ecological consciousness and activism in Black America. By showing us how the aesthetic realm (literature) is both a place to document and critique prevailing conditions, while staging activist interventions so as to open up new conditions of possibility, Lethal Housing makes a powerful argument for the critical role that the aesthetic may play in critiquing and reshaping the world, underlining the radical, agential, and devalued role that black women have always played in this process.
Plan of Study
African American Studies Webpage
Transfer to African American Studies
Purdue admits to individual majors. Transfer students must meet Purdue's overall transfer criteria, as well as any major-specific requirements. Before you apply, check the closed programs page to confirm this major is open to transfer students. If it is, refer to the information below for major-specific transfer criteria.
Minimum GPA: 2.5
---
Contact Information
Undergraduate Student Recruitment Office
(765) 494-6291
newstudent@purdue.edu
College of Liberal Arts
---
Careers in African American Studies
Teacher
Community Relations & Outreach
Policy Developer
Public Relations
Attorney
Humanitarian Services
Social Services
Journalism
Government Relations
Business
---