Marketing is positioning a product to be competitive in the marketplace. Successful product positioning means that a firm must be able to define a target market, effectively communicate the value of the product and make the product widely available at an attractive price. The process is the same whether it is a new product or the reinvention of a classic. The world of marketing is constantly changing, with new products, new consumers and new ways to connect the two.
You will learn communication, teamwork and analytical research skills with real-world problems in case-based marketing classes. Combining analytical and creative skills, you'll be prepared to conduct market research, analyze trends, or develop a new product or service. You'll learn to think "big picture" as you create marketing strategies to develop the sales revenue for your firm.
Krannert graduates are prepared for a variety of careers ranging from brand and product management to marketing research and analytics to advertising and public relations in companies like Nielsen, PepsiCo, General Electric, Amazon, Deloitte, and Eli Lilly.
Krannert People: Mike Zentner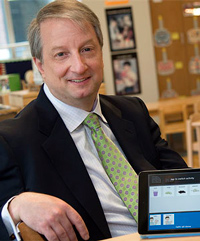 Watching from a distance, Mike Zentner quickly saw the success of SPEAKall!
Seeing the therapy app--which helps individuals with autism and other disabilities develop communication, speech and language skills--up close touched an emotional cord.
"It makes the hair on the back of your neck stand up when you see it happen," Zentner said.
The ITaP senior research scientist and Entrepreneur-in-Residence at Purdue's Foundry has played a big role in helping SPEAKall! and the startup company, SPEAK MODalities, navigate the commercial landscape since its launch.
Zentner's job is to help Purdue faculty think about their research from a business standpoint. Zentner, Oliver Wendt – assistant professor of speech, language and hearing sciences and educational studies at Purdue - and Chief Operations Officer Diana Hancock are co-founders of SPEAK MODalities.
SPEAKall! is helping improve the lives of families affected by autism. Zentner said between 50 and 66 percent of children with autism will have some difficulty developing language and communication.
"Usually these are the most severe end of the spectrum," Zentner said. "Typically, very minimally verbal or completely non-verbal. SPEAKall! allows them to communicate with pictures and speaks on their behalf at first but its primary use is not as a speech prosthesis, but as a training aid to help them find their voice."
After meeting with Wendt, Zentner was convinced SPEAK MODalities had a bright future.
"I saw some of the videos that he had of the kids before and after," Zentner said. "You see kids not being able to communicate at all and three or four months later, some of these kids were speaking short sentences fairly clearly. It's a very motivating thing to see."
Visibility for the product continues to grow.
The company recently received one of the 2015 "Oscars for Tech" for the Best in Education Tech Product honored by the TechPoint Initiative. In 2014, the company received top honors at the International GAIN-TEN Business Pitch Challenge.
"Selfishly, that's why we applied for these awards. Not so much because we wanted an award but every little bit of recognition that you have for something, that's one more way people see your company. It's tough to maintain that constant visibility," Zentner said.
As part of the Foundry, Zentner brings would-be entrepreneurs together in a supportive community and helps connect them to experienced mentors and funding.
The market is now filled with products similar to SPEAKall! but Zentner believes the company's focus on autism will allow it to separate from its competitors.
"Ours is very specific for people with a certain level of cognitive impairment," Zentner said. "It's not just that you can't speak but you also have some cognition problems with kids with autism and there are other disabilities that fall into the same realm.
"We're not aiming at the much broader assisted speech market like many of the competitors are. We're focused on this particular cognitive impairment. In that realm, we're one of the better groups serving that."
Plan of Study
Marketing Webpage
Transfer to Marketing
Purdue admits to individual majors. Transfer students must meet Purdue's overall transfer criteria, as well as any major-specific requirements. Before you apply, check the closed programs page to confirm this major is open to transfer students. If it is, refer to the information below for major-specific transfer criteria.
Minimum GPA: 3.0
Additional Requirements: Must have a grade of B or better in any college level calculus class.
---
Contact Information
Mary Laurie
(765) 494-4347
krannertundergrad@purdue.edu
Krannert School of Management
---
Careers in Marketing
Job titles of recent Krannert Management graduates:
HR associate manager for a consumer products company
Financial analyst at a global pharmaceutical firm
Marketing coordinator for a media services provider
Strategic manager for an international electronics company
Job titles of recent Krannert graduates:
Marketing analyst for a global performance marketing firm
Marketing manager for a US-based IT security consulting firm
Marketing representative for a global agricultural machinery manufacturer
Marketing analyst for a global signal transmission manufacturer
---