Marketing is positioning a product to be competitive in the marketplace. Successful product positioning means that a firm must be able to define a target market, effectively communicate the value of the product and make the product widely available at an attractive price. The process is the same whether it is a new product or the reinvention of a classic. The world of marketing is constantly changing, with new products, new consumers and new ways to connect the two.
You will learn communication, teamwork and analytical research skills with real-world problems in case-based marketing classes. Combining analytical and creative skills, you'll be prepared to conduct market research, analyze trends, or develop a new product or service. You'll learn to think "big picture" as you create marketing strategies to develop the sales revenue for your firm.
Krannert graduates are prepared for a variety of careers ranging from brand and product management to marketing research and analytics to advertising and public relations in companies like Nielsen, PepsiCo, General Electric, Amazon, Deloitte, and Eli Lilly.
Krannert People: Chandler DeHart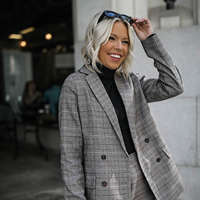 Arriving at Purdue from a small, one-stoplight town in Indiana, Chandler DeHart's early resume was mostly limited to athletics, a very small side gig as a self-taught photographer, and baling hay with her dad in the summer.
Today, DeHart (BS Marketing '16) has made the giant leap to Atlanta, Georgia, finding success in a career that didn't exist in her youth — social media influencer.
DeHart is @candidlychan on Instagram and the face of candidlychan.com, a popular style blog that offers tips on fashion, lifestyle, recipes, and home decor. The Krannert marketing graduate started the blog in college as a creative outlet for her passion for photography, fashion, and creative writing.
"I had a job offer in marketing coming out of Purdue, but I never started with the company," she says. "I knew my heart just wasn't in it, so I took a side job in retail and kept blogging. I didn't expect to do it full-time, but as more brands wanted to work with me, I realized it could become a lucrative career."
Boiled down to the basics, her main role as an influencer is posting and sharing about things and brands that she loves on social media — mainly Instagram, which is her biggest platform. Because that requires imagery, much of her time is devoted to taking and editing photos and videos. "That's the fun part of my job," she says.
Communicating with clients and sponsors via email and other digital platforms also requires daily attention, DeHart says. "There's a lot of behind the scenes work that no one really knows about, but that's where I spend the majority of my time," she says. "I apply everything that I learned at Krannert to what I do on a day-to-day basis."
Marketing, branding and data analytics are among the skill sets DeHart uses frequently. 
"At the backend of my Instagram feed, for example, I can see all of the classic marketing metrics I studied at Purdue. I can see what types of posts work the best for my audience and I can use those numbers to strategize a partnership with a particular brand," she says. "Say a clothing brand reaches out to me. I will send them the metrics from something I have done in the past and say, 'I think this is going to work best. This is what sells the best.'"
DeHart, who recently wed her longtime boyfriend, also dishes advice on marriage and love. She doesn't necessarily encourage other bloggers or those interested in starting a blog to follow her lead, however.  Instead, she encourages others to find their own voice in the industry.
"Authenticity is a huge factor. A lot of people come to me wanting guidance on what type of content they should post, but I don't really like to give insight because we all have our own style and share different things in different ways," she says. "I think that's something that everyone has to figure out for themselves."
DeHart shared a similar message with students during her fall 2019 talk at the Krannert Executive Forum.
"My first and biggest piece of advice to everyone is never compare yourself," she says. "With social media being so huge and everyone seeming to have a presence, it's easy to look at what is depicted as someone's life and think that you're not living up to those standards. It's just like the quote says, 'Comparison is the greatest thief of joy.' That's something I remind myself daily."
Plan of Study
Marketing Webpage
Transfer to Marketing
Purdue admits to individual majors. Transfer students must meet Purdue's overall transfer criteria, as well as any major-specific requirements. Before you apply, check the closed programs page to confirm this major is open to transfer students. If it is, refer to the information below for major-specific transfer criteria.
Minimum GPA: 3.0
Additional Requirements: Must have a grade of B or better in any college level calculus class.
---
Contact Information
A.J. Frigo
(765) 496-0264
krannertundergrad@purdue.edu
Krannert School of Management
---
Careers in Marketing
Job titles of recent Krannert graduates:
Marketing analyst for a global performance marketing firm
Marketing manager for a US-based IT security consulting firm
Marketing strategist for a national retail chain
Marketing analyst for a global signal transmission manufacturer
---