In business school, students learn how to manage a business. But there are so many different types of businesses! How can you learn everything you need to know? A business is the network that links together all the talent and knowledge needed to produce the desired result. The business can be one person—a proprietorship with one person working. Or the business could be a multi-national organization that includes people who don't even speak the same language. The trick in managing a business is to know how to effectively bring people together to accomplish the goal
The General Management major deepens your "big picture" thinking by equipping you with tools to analyze the business environment and your position in it, whether you are an entrepreneur, a small or midsize business, a large corporation, or a division of a large corporation. The major prepares you to identify good opportunities and directions in which to take your organization. Finally, the major teaches you how to translate your vision into practical decisions about human resources, business processes, technologies, new products, customer relationships and helps you to effectively convey your vision and motivate others around you.
The General Management major also hones your critical thinking, analytical, and communication skills. It helps you to cross boundaries and effectively collaborate with finance, accounting, marketing, and other functional specialists. Students who major in management may add minors and concentrations that emphasize particular specialties such as Consulting, or Technology, Innovation, and Entrepreneurship.
Our graduates pursue many different career paths. Some start in corporate management rotational programs, as account executives or as project managers. You will find Krannert management graduates in companies like Boeing, General Motors, Amazon.com, and Target. Others choose exciting careers in management consulting, working for companies like West Monroe Partners and Accenture. Others join small firms or entrepreneurial startups, in some cases managing and upgrading their family businesses.
Exceptional Early Career Award: Heather Howard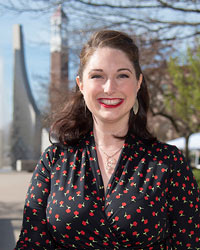 Years at Purdue: Since July 2016.
Teaching interests: I enjoy teaching students how to use information to support business decisions. This includes teaching what business information is available, how to find it, evaluate it, and use it to make informed decisions. I teach this type of content to management, agriculture economics, hospitality and tourism management, and entrepreneurship students, as well as actual entrepreneurs. Business information has been essential to me in my own professional and entrepreneurial endeavors, and I want to pass these skills along to my students. I'm also passionate about teaching students how to evaluate news and information they come across in their daily lives. Being information-literate is more important than ever, and it's essential for students to be able to critically digest the information they are consuming.
[...]
On working with students outside of the classroom: It's very satisfying (though not necessarily scalable) to work with students one on one or in small groups. There's much more time to go into specific questions and go deeper on things they find interesting or useful. An example of this is working with the Student Soybean Innovation Competition. I meet with approximately 30 groups per year, and consult with them on the market analysis for their products. We work through ideation, and can delve deep on the marketability of just that one idea. There simply isn't time to do that with everyone in a classroom setting. Also, working with Learning Community classes, we often take our students outside of the classroom to learn directly from professionals. This shows the students how what we are talking about in class is being applied by people doing the jobs they hope to one day attain.
 On what she hopes students take away from her courses: I hope the students begin to become literate in business information and media. I want them to take what we've talked about in class and apply it to their lives, both as students and as future professionals. 
[...]
What her students say: Her enthusiasm toward teaching is very noticeable. … Professor Howard knows a TON about the hospitality industry and the library databases. Her assignments always had clear expectations, and she made sure we had the tools we needed to get them done. As one of the first professors I had here, Professor Howard was very welcoming and not the least bit intimidating. I also liked that she gave us real-world applications and scenarios to help us develop thinking skills. … I loved taking this class and discussing how we are going to use what we learn later on. I also enjoyed Professor Howard discussing how it applied to opening her own business. Overall, I loved this class and learned a lot that I'm sure I will use throughout my college and future careers. … Professor Howard is always willing to clarify and help us in and out of class. She makes the learning environment fun and I look forward to going to her class every week.
Plan of Study
Management (General) Webpage
Transfer to Management (General)
Purdue admits to individual majors. Transfer students must meet Purdue's overall transfer criteria, as well as any major-specific requirements. Before you apply, check the closed programs page to confirm this major is open to transfer students. If it is, refer to the information below for major-specific transfer criteria.
Minimum GPA: 3.0
Additional Requirements: Must have a grade of B or better in any college level calculus class.
---
Contact Information
Mary Laurie
(765) 494-4347
krannertundergrad@purdue.edu
Krannert School of Management
---
Careers in Management (General)
Job titles of recent Krannert Management graduates:
HR associate manager for a consumer products company
Financial analyst at a global pharmaceutical firm
Marketing coordinator for a media services provider
Strategic manager for an international electronics company
---