Chemistry at Purdue University has a ratio of 1 faculty member for every 8 undergraduates, which allows students to enjoy a great deal of individualized attention. It also offers opportunities for mentoring programs and cutting-edge undergraduate research in a wide range of fields from drug discovery to climate change. Chemistry majors can pursue one of two degrees: bachelor of science in chemistry, accredited by the American Chemical Society (ACS); or the more flexible bachelor of science with chemistry as a field of study, which allows for specializations in ACS-accredited biochemistry or chemistry education.
The B.S. program with chemistry as a field of study is designed for those who want less specialized training in chemistry than is required for the B.S. in chemistry (ACS) degree.  Free electives allow a student to build a program of study in another area to complement a chemistry background.  It is possible, for example, to concentrate elective credit hours in one of the following areas: administration, biochemistry, chemical literature, chemical physics, computer applications in chemistry, cosmochemistry, geochemistry, patent law, and preprofessional.
There is also the opportunity to complete in five years a dual degree with chemical engineering or material science engineering, after acceptance into the College of Engineering.
2019 Excellence in Instruction Award for Continuing Lecturers: Cynthia Harwood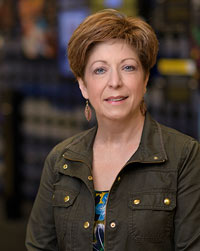 Years at Purdue: 14.
Teaching interests: Making general chemistry relevant to the students who take the course.
Goals as a professor: I want to help students understand the why and how behind the chemistry concepts in the course. I want my students to be able to answer a question and then explain why that answer makes sense and, hopefully, how it relates to something they can experience in the "real world."
Why she feels it's important to interact with students outside the classroom, like as a Boiler Gold Rush faculty advisor and through involvement with Feasting with Faculty: I believe it is very important to get to know the students and to have them get to know me. In order to truly connect with students, they need to see you as a real person who eats, listens to music, has pets or enjoys family time. Students don't feel comfortable approaching the "lady that stands behind the lectern" but they tend to feel more comfortable approaching me after they find out things about me that show I am a real person just like them. That connection is very important and it's easier to accomplish outside of the classroom in situations like Boiler Gold Rush and Feasting with Faculty.
On revising the CHM 11200 syllabus to make it more relevant to students' majors: The previous incarnation of CHM 11200 was the traditional chemistry course for non-science majors. The topics were watered down, often not relevant to the majors taking the course, and did not prepare the students for the next chemistry course(s) they might need to take. Chemistry is a difficult course for most students and it is made more so if the students cannot readily see how it relates to what they have chosen to do in life.
I collaborated with colleagues in the colleges that make up the majority of our students' majors, Agriculture and Health and Human Sciences, and asked them what chemistry topics they thought their students should be learning from us. I took that information away and changed up the old CHM 11200 syllabus by cutting out topics that seemed less important for the students and increased coverage of topics that seemed most important. For each of the important topics, I added in examples of why that topic is relevant for the majors in the class. I tell the students which chemistry topics they will see again in future courses like soil science, agronomy, nursing, etc. This helps get students to see the relevance of the course topics to their future lives.
On how badging activities work to increase students' understanding of laboratory skills: Digital badging activities, which allow students to demonstrate a particular laboratory skill, help them to learn the technique and improve their knowledge, confidence and experience. It allows students to get personal feedback on their technique and how they might improve that technique. Teaching assistants and professors have noticed that students who earn a digital badge for a laboratory skill are no longer hesitant to perform that technique in lab. In fact, we have seen that students approach the laboratory with much more confidence and they take ownership of the skills they have. This leads to better student learning in the laboratory.
On helping students meet her goals for them: I place a lot of emphasis on problem solving during lecture. I always demonstrate ways of solving new problems the students are learning and then I give them the opportunity to work on a similar problem during lecture. While the students work, the graduate teaching assistants and I walk through the classroom answering student questions and giving them guidance. This allows a student to get one-on-one help even in a large lecture hall.
To help students understand basic chemical concepts at a molecular level, I utilize questions with molecular-level pictures that they must reason through. I also give many opportunities in which students are required to draw a particular reaction or chemical system showing the individual atoms or molecules.
The most important lesson she wants her students to take away from her classes: I would like my students to leave my classes with a deeper understanding of basic chemical principles. I also want them to leave knowing that many of these basic principles can be used to explain many of the real-world phenomena they encounter in daily life.
What her students say: She had a way of taking what we were learning and relating it to some of the majors that some students are taking. She compared the things we were doing to things we might deal with in the real world. ... Something great Professor Harwood does is she always tries to tie whatever we are talking about to a real-world example. ... Professor Harwood was approachable and welcome to questions. For being such a big class, I like how she did example problems and allowed students to talk to each other and ask TAs and Professor Harwood questions. ... My favorite aspect of Professor Harwood is that she actually made the class interesting and explained things well. She didn't just show an equation on a PowerPoint, she would do the problem on paper and explain what is happening.
Plan of Study
Chemistry Webpage
Transfer to Chemistry
Purdue admits to individual majors. Transfer students must meet Purdue's overall transfer criteria, as well as any major-specific requirements. Before you apply, check the closed programs page to confirm this major is open to transfer students. If it is, refer to the information below for major-specific transfer criteria.
Minimum GPA: 2.5
Additional Requirements: Completion of at least one semester of college-level calculus equivalent to MA 16100 or MA 16500 with a grade of C or higher.
---
Contact Information
Director of Recruiting, College of Science
(765) 494-1771
sciencerecruiting@purdue.edu
College of Science
---
Careers in Chemistry
Many graduates work in research and development in a wide variety of fields, while others choose jobs such as lab supervisor, pharmaceutical sales, analytical services, or quality control. Students also learn communication, teamwork, and problem-solving skills as well as the technical skills necessary for careers in biotechnology, chemical, and pharmaceutical industries.
---