Aeronautical Engineering Technology
A major in aeronautical engineering technology will prepare you to design, manufacture, maintain, operate and support all varieties of aerospace vehicles.
With these skills, aeronautical engineering technology graduates can become leaders in a variety of fields: aerospace and spacecraft manufacturing, airlines repair engineering, aerospace leadership development programs, and corporate flight operations management.
This program can be completed in three years; ask an academic advisor how.
The aeronautical engineering technology program is accredited by the Engineering Technology Accreditation Commission of ABET, www.abet.org. The bachelor's degree in aeronautical engineering technology is accredited by Aviation Accreditation Board International (AABI).
The Purdue Polytechnic Institute is one of 10 academic colleges at Purdue University. The Polytechnic specializes in team-based labs where you'll test ideas, take things apart and put them back together — only better. You'll learn side-by-side with professors who have worked in the industry and thrive on combining theory, imagination and real-world application. In this innovative environment, you'll learn by doing - gaining deep technical knowledge and applied skills in your chosen discipline coupled with problem-solving, critical-thinking, communication and leadership skills employers desire.
Making a difference for the future: Purdue professor focuses on improving sustainability with jet fuel research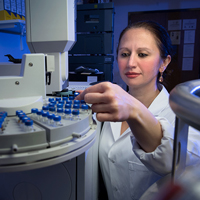 When people talk about sustainability, jet fuel doesn't come up in the conversation. Unless it is Gozdem Kilaz who is talking.
Kilaz, an assistant professor of engineering technology at the Purdue Polytechnic Institute, her alma mater, is head of the Fuel Laboratory of Renewable Energy. She and her group research sustainable energy and alternative liquid transportation fuels for gas turbine aircraft engines.
"We want to look at the chemical composition of a drop of fuel, just like a fingerprint, and work on predicting if the fuel is going to be stored well, if it is susceptible to corroding or not, if it is going to be safe with all the parts it comes in contact with in the aircraft," she said.
"We're not just trying to follow the regular path. We want to make a change. We want to make a difference."
Instead, she says those in the position of professor have a responsibility to use their knowledge to make a difference
Kilaz believes there is more to her research efforts than a desire for knowledge or an eagerness to educate future generations.
"As scientists, I don't think we can just sit on the corner and say 'I'm a professor. I'm going to research all this information and decide all these formulas and feel great about it,'" Kilaz said. "Knowledge bring a lot of responsibility and if I have some part in this development in U.S. sustainability and economic growth, that is exactly what we're here for."
...
"When dealing with sustainability, it's a very difficult, hard to achieve goal," Kilaz said. "We have to prove the rest of the world that it makes sense with respect to economy, people and the environment."
But understanding what factors into a fuel's performance could offer avenues in determining lower development costs of alternatives and dependence on crude oil sourced from other countries.
"Sustainability is a subset of all the good things that takes us away from the petroleum use and gives us domestic energy security, environmental advantages, lower emissions and the feedstock is never going to diminish."
...
"What we do matters," she said. "We need to have a big impact, take a giant leap with our work."
Plan of Study
Aeronautical Engineering Technology Webpage
Transfer to Aeronautical Engineering Technology
Purdue admits to individual majors. Transfer students must meet Purdue's overall transfer criteria, as well as any major-specific requirements. Before you apply, check the closed programs page to confirm this major is open to transfer students. If it is, refer to the information below for major-specific transfer criteria.
Minimum GPA: 2.5
---
Contact Information
Yuliya Boesch
(765) 496-0492
ybachyla@purdue.edu
Purdue Polytechnic Institute
---
Careers in Aeronautical Engineering Technology
Airframe design engineer
Logistics engineer
Reliability engineer
Integration engineer
---