Computer and Information Technology
Information technology professionals are needed in all industries to maintain computer networks and protect the data those networks carry safe from hackers. You will learn to work with databases, information systems and computer apps, while you plan, design, build, analyze, manage and maintain computer networks. Besides technical skills, classes provide students with an understanding of what industries need, including the ability to communicate with peers, customers and business leaders.
Polytechnic specializes in team-based labs where you'll test ideas, take things apart and put them back together — only better. You'll learn side-by-side with professors who have worked in the industry and thrive on combining theory, imagination and real-world application. In this innovative environment, you'll learn by doing - gaining deep technical knowledge and applied skills in your chosen discipline coupled with problem-solving, critical-thinking, communication and leadership skills employers desire.
Faculty Spotlight: Dawn Laux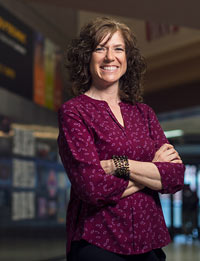 Teaching interests: Database fundamentals.
What she wants students to take away from her classes: My hope is that students can find a practical use for what they have learned in my course. Many students come back after their first internship and share how they were able to use the skills they learned in my course right away.
On how she works to create an interactive, immersive experience in a large classroom: I use a mix of lecture, discussion, and group work. I am also very diligent in learning all of my students' names early on in the semester, and I frequently use their names as they communicate with me in and out of the classroom. I feel that as I constantly walk around the room during class, they know that I am invested in their success as well. 
[...]
How she works to ensure that all students' learning needs are met with different learning methods: I try to provide support and guidance based on what I hear from the students and observe in the classroom. I pay close attention to how they are interpreting the material, and then try to adjust my delivery for better comprehension. I also provide the students with various ways to contact me outside of class, and we work together to solve problems. It is a team effort!
How her interaction with students is rewarding: I am so gratified when a student works through an issue in the class material, and with a little guidance, the correct answer comes to them. I am problem solver, and I truly enjoy working with each student as they wrestle with new concepts in my course. It is rewarding to see their growth throughout the semester, and also throughout the rest of their academic career at Purdue.
Plan of Study
Computer and Information Technology Webpage
Transfer to Computer and Information Technology
Purdue admits to individual majors. Transfer students must meet Purdue's overall transfer criteria, as well as any major-specific requirements. Before you apply, check the closed programs page to confirm this major is open to transfer students. If it is, refer to the information below for major-specific transfer criteria.
Minimum GPA: 3.0
---
Contact Information
Computer and Information Technology Advisors
(765) 496-6003
CIT-Advising@purdue.edu
Purdue Polytechnic Institute
---
Careers in Computer and Information Technology
Application developer
Consultant
Data analyst or administrator
Information analyst
IT analyst
Network engineer or administrator
Programmer
Programmer analyst
Project manager
Software developer, engineer, support or tester
---