Counselor Update - Need to Know
WHAT'S NEW FOR 2021

Higher Education institutions around the globe are finding themselves in a unique and challenging situation.
With in-person visits postponed due to the current pandemic, we all have had to rethink how we connect, engage, and inform students. That's why at Purdue University, we've quickly and intentionally designed both an Admitted Student Virtual Experience page and a Prospective Virtual Experience page. There, students and families will find opportunities to connect with each of our academic colleges and schools through virtual tours and Q&As, meetings with department staff and information sessions. In addition to the academic colleges and schools, students can also explore opportunities with the Office of Admissions, Bands and Orchestras, Purdue Musical Organizations, the Honors College and University Residences and Dining, and many more!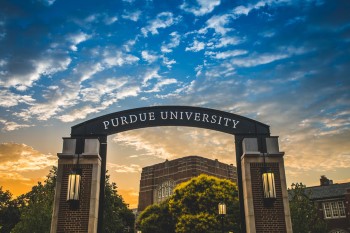 ---
Check out what's new for the 2021 application:
Purdue will be Test Flexible: In years past, Purdue University has always required test scores as an integral part of the application and evaluation process. This year, in the light of the coronavirus pandemic, Purdue will be going test flexible for the upcoming fall. For Purdue, test flexible means that if a student has access to take an SAT or ACT test it is encouraged that they do so, especially for the most competitive programs. However, we recognize that possible cancellations and postponement of national standardized tests due to the pandemic restrictions may be impacting students' applications. With this in mind, we will move forward and review any application from a student who is unable to take a standardized test. Students that do not take a standardized test will not be held at a disadvantage for being unable to provide test scores.
Purdue will No Longer Use the Coalition Application: For the 2021 application cycle and beyond, Purdue will no longer be utilizing the Coalition Application. Students that are interested in applying for admission can only use the Common Application. The Purdue section of the Common Application opens on August 1st. 


Duolingo will be Counted for English Proficiency: For the upcoming fall, Purdue will be accepting the Duolingo English Proficiency test as proof of English proficiency. 


2021 APPLICATION DEADLINES, RELEASE DATES
Here's a list of application and scholarship deadlines and dates you can share with Purdue-interested students
November 1*, The Early Action Application Deadline

Application deadline for University-wide merit scholarship consideration
Application deadline for Honors College consideration
Priority deadline for Nursing, Computer Science, and Professional Flight majors
Firm deadline for Veterinary Nursing majors

December 15, Supplemental Scholarships and FAFSA

Deadline to submit the Supplemental Scholarship Application and FAFSA (for students who want to be considered for scholarships awarded by their academic college)

January 15, The Early Application Decision Release and Regular Decision Deadline

Students who applied by the Early Action Application Deadline (Nov. 1) will receive their admissions decisions on this day at 5:00 p.m.
Students who wish to apply by the Regular Decision Deadline must have their application completed and submitted on this day

March 31, Regular Decision Release

Students who applied by the Regular Decision Deadline (Jan. 15) or were "deferred" in Early Action will receive their admissions decisions on this day at 5:00 p.m.
*Students interested in nursing, veterinary nursing, computer science or flight should apply by Nov. 1. For veterinary nursing, this is a firm deadline; for others, it's a priority deadline.
Introducing Counselor Connections
Virtual Experiences for Counselors now available!
It is wonderful that colleges and universities across the globe are connecting with prospective and admitted students virtually. However,  we recognize that you - our school counselors, community leaders, and more - deserve the same support! That's why we've created "Counselor Connections": a series of virtual experiences designed just for you. We'll discuss important aspects of admissions, broken down by in-state and out-of-state populations. Take a look at our Counselor Events page to explore the various opportunities that await you! 
Fast Start: Affordable and Assured Admission to Purdue
How Purdue University and Modern States are empowering Indiana students
Many promising Indiana students now have the opportunity to take their first steps toward a Purdue degree with the new Purdue Fast Start program. Purdue's partnership with Modern States, a philanthropy and online learning program for earning college credit, provides free courses and textbooks online plus vouchers to pay for credit-bearing exams. Passing five courses, the corresponding CLEP exams, and meeting Purdue's standard admissions requirements assures admission into Purdue. Additionally, Purdue's Fast Start program is a great option for students to take college prep coursework that may be unavailable to them with virtual learning limitations. Learn more about the Purdue Fast Start program here.
We Want to Hear From YOU!
Help us develop our new Spotlight Series!
We at Purdue University are committed to persistent innovation; and just between us, sometimes "innovation" involves working smarter not harder!
Currently, we are brainstorming a new spotlight series that will focus on each of our academic colleges and schools. Before we get to work, however, we'd like to hear from you and find out what you want to see, what information you'd find most valuable, and what stories would be most impactful for you and your students. Please visit this survey and let us know!