Thank you for your partnership with Purdue University's Office of Admissions.
Discover our growing inventory of counselor events available to you - right now! We hope these opportunities can outfit you with the knowledge you need to confidently assist your students down their paths toward higher education. 
If you feel we're missing a key topic, please do not hesitate to reach out to us with your suggestions!
Counselor Connections:
In order to better provide you with important admissions information in this time of social-distancing, we've created a new series of virtual experiences for counselors, community-based organization leaders, and more: Counselor Connections!
Explore the many offerings below and register for any of the upcoming sessions. Details about how to access the webinar will be shared with you in your registration confirmation email.
Can't join us live? All completed webinars will be recorded and hosted here - on this page - for you to view at your convenience.
Our admissions process has adapted to the changing time. Join us to learn more about how Purdue's admissions process will be changing and its potential effects on our in-state, out-of-state, and international students.
Purdue University is comprised of  over 200 academic programs that live in 11 academic colleges. We'll be getting together with representatives from our academic colleges to provide an overview of their respective academic offerings.  
With over 1,000 clubs and organizations for students to join, Division 1 Athletics, over 400 study abroad opportunities, research experience, internships and professional practice opportunities – Purdue is not short on ways for student to engage.  Come learn about these unique Op-PURDUE-nities available for your students!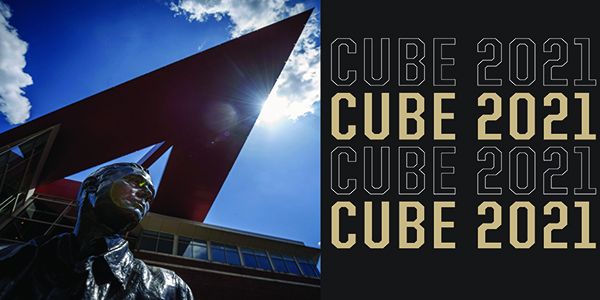 Join four nationally recognized Colleges virtually on October 6th, 2021, as they discuss their engineering programs and application process.
Purdue University, Olin College of Engineering, Harvey Mudd College and Georgia Institute of Technology welcome you to the 2021 CUBE TOUR.

Colleges - United - Bringing - Engineering to you!
Affordability is what we strive for. Our In-state residents can be considered for specific merit and financial aid programs. Join us to learn about the ways in which we keep our promise as a land-grant university.
Scholarship selection and financial aid opportunities can be selective for our out-of-state applicants. Come and learns about ways to make your students competitive in the selections process! We'll share information about our internal review process and methods by which we continue to make Purdue University affordable.
Have you wondered about the institutional support systems we have for our diverse student populations? If so, this session is for you. Come learn about our student demographics and our on-campus resources that serve our diverse populations.  
After learning about our formal resources, we would like to introduce you to our students! This student panel will feature students from diverse backgrounds talking about their experiences at Purdue and how they've utilized our resources. Come join us to learn about diversity on campus from the student perspective.
Decision Release & Next Steps
With decision release on January 15 we want to prepare you to for the tough questions you may get from your students moving forward. Let's talk about potential decisions your students may receive and the next steps your students should consider as they embark on their journey to becoming future Boilermakers!