Occupational Health Science
Occupational Health Science is a science dedicated to the anticipation, recognition, evaluation, and control of hazards in the workplace. The industrial hygienist performs qualitative and quantitative workplace exposure assessments of adverse chemical, physical, radiological, and biological agents. The goal of occupational health science is to control such exposures to prevent fatalities, injuries, and/or illnesses that impact the health, performance and well-being of workers.
At Purdue the occupational health science program emphasis is on exposure assessment and use of engineering controls to eliminate such hazards. This program stresses background in the basic sciences, specific courses in occupational health, and a hands-on industrial hygiene experience gained through laboratory exercises in environmental monitoring, field trips, and internships.
Students in Occupational Health Sciences have the opportunity to complete an accelerated 5-year M.S. degree in Occupational Health with a concentration in Industrial Hygiene. Both the undergraduate and graduate programs are ABET accredited.
Students interested in pursuing Occupational Therapy through Health Sciences should apply to Health Sciences Pre-professional and choose the pre-professional interest of Pre-Occupational Therapy on the Common Application.
---
HHS Spotlight: Assem Imangaliyeva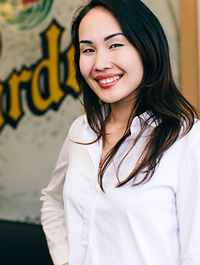 Tell us why you chose Purdue University for your undergraduate education
Purdue has a good reputation, especially in the fields of science and engineering. I wanted to study here because I knew I would get a great education.
How would you describe the faculty and staff in the College of Health and Human Sciences (HHS)?
I love the faculty and staff members in the College of Health and Human Sciences! It's reassuring to know that I can always talk to them when I have a need. My professors and academic advisors have been extremely helpful throughout my Purdue journey. 
What advice would you give international students who are about to start their first year at Purdue?
Pursue your passions. Ask for help when you need it. Take advantage of the many opportunities you are given while at Purdue. 
What is your favorite thing about Purdue?
Purdue offers students many things to explore. Students are given a wide variety of academic and career development opportunities.
Tell us about some of your activities at Purdue.
During my sophomore year, I wanted to push myself to step outside my comfort zone. I decided to become a founding member of the Upsilon Chapter of Omega Phi Chi Multicultural Sorority. Before joining Omega Phi Chi (OPC), I was very shy and kept my opinions to myself. Serving as a founding sister of OPC significantly increased my confidence. I began to participate in all kinds of campus activities and became more comfortable sharing my thoughts and opinions. In addition to OPC, I participated in undergraduate research during my junior and senior years. The experiences I've gained from working in a research lab have gone beyond my expectations. I've learned many lab skills, started my own research project, and have presented at several poster sessions. I am grateful for the opportunities I have been given while at Purdue!
Plan of Study
Occupational Health Science Webpage
Transfer to Occupational Health Science
Purdue admits to individual majors. Transfer students must meet Purdue's overall transfer criteria, as well as any major-specific requirements. Before you apply, check the closed programs page to confirm this major is open to transfer students. If it is, refer to the information below for major-specific transfer criteria.
Minimum GPA: 3.0
Also: Any combination of at least two courses equivalent to the following Purdue courses — CHM 11500, CHM 11600, BIOL 11000, BIOL 11100, MA 16010, or a calculus-based physics course, with a minimum grade of C in each course.
---
Contact Information
HHS Undergraduate Student Services
(765) 494-8533
HHSRecruitment@purdue.edu
College of Health and Human Sciences
---
Careers in Occupational Health Science
The employment rate for graduates of the Occupational Health Sciences program is constantly at, or near, 100%. Graduates work for both industry and governmental agencies such as the Environmental Protection Agency (EPA) and the Occupational Safety and Health Administration (OSHA).
Potential job titles:
Industrial Hygienist
Occupational and Environmental Specialist
Occupational, Environmental, and Safety Specialist
Occupational/Environmental Engineer
Occupational Ergonomist
Occupational Hygienist
Examples of companies that employ our graduates:
Abbott Labs
Alcoa
Boeing
Caterpillar
Deere
Dow Chemical
Eli Lilly
Exxon Mobile
Ford
General Motors
Subaru
3M
---