Brain and Behavioral Sciences
As a major within the Department of Psychological Sciences, behavioral neuroscience (the application of the principles of biology to the study of physiological, genetic, and developmental mechanisms of behavior in humans and animals) serves as the foundation for this program. Brain and Behavioral Sciences offers an overview of many of the sub-fields of psychological sciences, including clinical psychology (mental illness and behavioral problems), cognitive psychology (memory, thinking, and reasoning), developmental psychology (human growth and aging), industrial/organizational psychology (how people work together), social psychology (thoughts and behavior in social situations), learning and motivation, statistics and mathematical models of behavior. 
Brain and Behavioral Sciences students have an opportunity to participate in a research-focused honors program, complete an internship for credit in PSY 49200, and study abroad in multiple countries.
They also have the opportunity to complete an accelerated 5-year Master of Public Health or Applied Behavior Analysis degree.
Brain and Behavioral Sciences offers excellent preparation for students interested in pursuing graduate and professional school - especially neuroscience, neurology, medical school, physician assistant, orthotics and prosthetics, law school, and occupational therapy.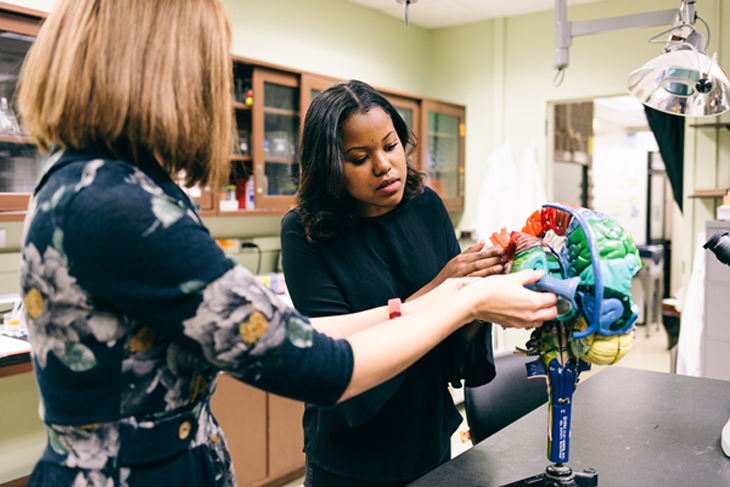 Plan of Study
Brain and Behavioral Sciences Webpage
Transfer to Brain and Behavioral Sciences
Purdue admits to individual majors. Transfer students must meet Purdue's overall transfer criteria, as well as any major-specific requirements. Before you apply, check the closed programs page to confirm this major is open to transfer students. If it is, refer to the information below for major-specific transfer criteria.
Minimum GPA: 2.5
---
Contact Information
HHS Undergraduate Student Services
(765) 494-8533
hhsrecruitment@purdue.edu
College of Health and Human Sciences
---
Careers in Brain and Behavioral Sciences
Advertising, marketing, and public relations
Child care and gerontology
College administration
Criminal justice
Government
Graduate or professional school
Human resources
Human services and health care
Management and sales
Medical school
Psychological counseling
Recreation
Research
---