The Bachelor of Science in Pharmaceutical Sciences (BSPS) is a four-year degree program that begins with a foundation of coursework in mathematics and the basic sciences -- chemistry, biology, and physics. This interdisciplinary program then progresses to advanced coursework in the pharmaceutical sciences, including aspects of drug design and synthesis, mechanisms of drug action, pharmacology and toxicology, dosage formulation, manufacturing, quality assurance, and regulatory compliance. 
The four-year BSPS program trains students for diverse positions in industrial, academic, or other research environments within the areas of drug discovery, development, and commercialization. It also prepares students for professional or graduate studies in graduate education in pharmaceutical, medical, and basic sciences and post-baccalaureate professional education in medicine, law, and business.
---
Founded in 1884, Purdue's College of Pharmacy consistently ranks among the top 10 best pharmacy programs in the nation by the US News & World Report. Numerous research opportunities, an innovative teaching pedagogy, and world-renowned, caring faculty create a cutting edge learning environment.
Employers are drawn by the quality, depth, and experiential learning of Purdue pharmacy graduates. The College of Pharmacy is making a difference locally and globally.
Undergraduate Programs
All new students enter the College with a major in Pharmaceutical Sciences and then select from one of two educational goals:
Pre-Doctor of Pharmacy is a two-year, curriculum that is intended to prepare students for entry into the Pharm.D. program below. Students who complete their pre-pharmacy pre-requisites at Purdue - West Lafayette with a cumulative GPA of 3.25 are eligible for Pharmacy Priority Admissions status. This ensures students priority consideration for admission into the Doctor of Pharmacy program (see Professional Program section for more info). Completing your Pre-pharmacy work through Purdue's two year program can save you up to two years of study and student loan debt, as well as enter the job market two years sooner. The first two years of the Bachelor of Science in Pharmaceutical Sciences (BSPS) degree is considered our Pre-Pharm.D. program and as such meets admissions prerequisite requirements.


The Bachelor of Science in Pharmaceutical Sciences (BSPS) is a four-year undergraduate program that stresses the multidisciplinary basic sciences related to drug discovery, development, and commercialization. A degree in this program does not allow graduates to become licensed pharmacists.
Professional Program
Doctor of Pharmacy (Pharm.D.) - Completion of the pre-requisites is required, after which successful applicants continue their studies for an additional four years. Graduating from this program allows students to sit for the licensure exam to practice pharmacy.
---
Amazing Alumni: Moises Martinez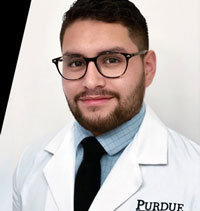 Moises Martinez is passionate about helping patients who are especially vulnerable. In order to effect real change, he knew he would need a pharmacy program that's serious about equipping their graduates with real-world experiences, study abroad opportunities and internships. Purdue University hit the mark.
Though he's had multiple internships, his favorite was at Riley Hospital for Children, where his particular passion for helping kids was cemented. He never felt unprepared. "My mentors at Purdue have been instrumental in empowering me to take on this experience," he says.
But the opportunities Moises has had at Purdue don't stop there. He also participated in a 10-week Spanish immersion program through CVS Health in the border town of Alamo, Texas. "One thing I'm passionate about and want to do no matter where I am is utilizing my Spanish to help people," he says.
And since ailments won't wait, he wants to get out there as soon as possible.
"A lot of people who go this route will end up having a doctorate in pharmacy by the time they're 22 or 23 years old," he says. "It's really intense, but they prepare you right from the start. Purdue has impacted my education and enhanced my experience as a student by providing opportunities to learn outside the classroom."
Plan of Study
Pharmaceutical Sciences Webpage
Transfer to Pharmaceutical Sciences
Purdue admits to individual majors. Transfer students must meet Purdue's overall transfer criteria, as well as any major-specific requirements. Before you apply, check the closed programs page to confirm this major is open to transfer students. If it is, refer to the information below for major-specific transfer criteria.
Minimum GPA: 3.0
---
Contact Information
Steve Myszak
(765) 494-1394
smyszak@purdue.edu
College of Pharmacy
---
Careers in Pharmaceutical Sciences
Drug Discovery and Development
Regulatory Affairs
Pharmaceutical Sales
Further education including: Ph.D. programs, medical schools, and professional programs
---